Abrasion Resistant Steel Plates, Wear Resistant Plates, Abrex 500 Plates, Hardox 500 Plates Suppliers in India.
ABREX 500 Plate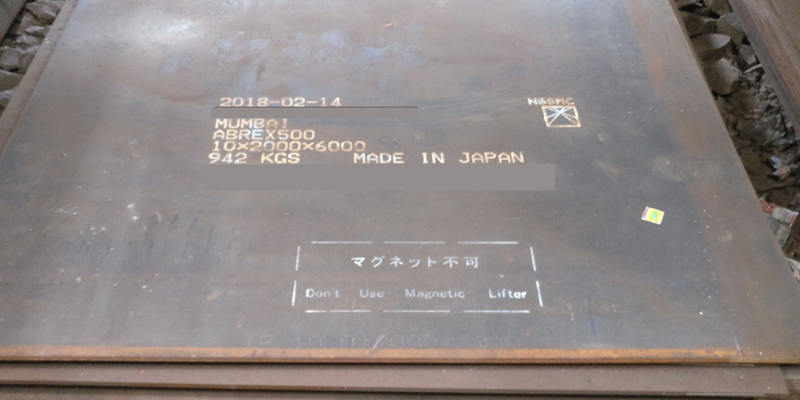 New Arise Metal – Stockist, Supplier, Exporter, Importer, Fabricator, Stockholder of ABREX 500 Steel Plates, premier suppliers of Abrasion Resistant Steel Plates. We Stock worldwide. Fast delivery guaranteed for every size Abrex 500 Steel Plates. Abrex 500 Steel Plates, largest range of Abrex 500 Steel Plates Stockist & Supplier in India.
Abrex 500 (NSSMC, Japan Make) 
ABREX - Abrasion Resistant Steel Plate
ABREX - stands for ABrasion Resistance EXcellent.
Abrex 500 is a Wear Resistant Plate / Abrasion Resistant Steel Plate series form NSSMC.
The utilization of abrasion resistant ABREX Steel Plate markedly reduces the weight of structural members exposed to severe abrasive conditions. Compared with regular steel, ABREX steel plate reduces structural weight and delivers economic merits. Adoption of high performance abrasion resistant ABREX will prolong the service life of machinery and components.
NSSMC's abrasion resistant ABREX steel plate is designed by placing priority on resistance to abrasion caused by earth and sand. It offers excellent scratching abrasion resistance 2 to 5 times that specified for mild steel.
The use of abrasion resistance ABREX 500 steel plate particularly lessens the weight of structural parts presented to serve grating conditions. Contrast and consistent steel, ABREX steel plate decreases structural weight and conveys monetary benefits. Selection of elite abrasion resistant ABREX 500 will delay the administration life of apparatus and part.
ABREX 500 is through solidified abrasion resistant steel with a run of the mill hardness of 515 BHN. ABREX 500 PLATES are the most generally utilized of the wear safe evaluations. ABREX 500 plate display an amazing blend of high resistance to impact, workability, weld capacity and resistance to abrasion. ABREX 500 plate has around 3 times the scraped spot safety of basic steel plate and helps drawing out the administration life of mechanical parts and ABREX 500 from 05mm to 150mm thickness.
Specification of ABREX 500:
| | |
| --- | --- |
| Size | 5 mm to 120 mm |
| Width | 1500 mm to 3000 mm |
| Length | 3000 mm to 12000 mm |
Chemical Composition / Chemistry / Properties of ABREX 500 :
| | | | | | | | | | | | |
| --- | --- | --- | --- | --- | --- | --- | --- | --- | --- | --- | --- |
| PLATE | C | SI | MN | P | S | CR | NI | MO | B | CEV | CET |
| Thickness | max % | max % | max % | max % | max % | max % | max % | max % | max % | typv | typv |
| 4 to 13mm | 0.27 | 0.7 | 1.6 | 0.025 | 0.01 | 1 | 0.25 | 0.25 | 0.004 | 0.49 | 0.34 |
| 13 to 32mm | 0.29 | 0.7 | 1.6 | 0.025 | 0.01 | 1 | 0.5 | 0.3 | 0.004 | 0.62 | 0.41 |
| 32 to 40mm | 0.29 | 0.7 | 1.6 | 0.025 | 0.01 | 1 | 1 | 0.6 | 0.004 | 0.64 | 0.43 |
| 40 to 80mm | 0.3 | 0.7 | 1.6 | 0.025 | 0.01 | 1.5 | 1.5 | 0.6 | 0.004 | 0.74 | 0.46 |
Application of ABREX 500 :
Dump Truck Liners

Cutting Edges

Drag line Bucket Wear Liners

Screen Plates - Chute Liners

Conveyor Buckets

Hoppers

Ore Scrapers

Minning
The Following Abrex 500 Abrasion Resistant Steel Plates and Wear Plates Grades Are Available:
ABREX 400

ABREX 450

ABREX 500
Other Grades Available In Abrasion Resistant Plate and Wear Resistant Plates :
ABREX 400 Plate

ABREX 500 Plate

Hardox 400 Plate

Hardox 500 Plate

SUMIHARD k400 Steel Plate

SUMIHARD k500 Steel Plate

DILLIDUR 400V Steel Plate

DILLIDUR 500V Steel Plate

ESSAR Rockstar 400 Abrasion Resistant Steel Plates

ESSAR Rockstar 500 Abrasion Resistant Steel Plates

JFE EH C500 Wear Abrasion Resistant Steel Plates

JFE EVERHARD EH500 Plate

XAR 400

XAR 500

BRINAR 400

BRINAR 500
ABREX 500 Available in Ready Stock :
| | | |
| --- | --- | --- |
| Thickness | Width | Length |
| 4 | 2000 | 6000 |
| 5 | 2000 | 6000 |
| 6 | 2000 | 6000 |
| 6 | 2500 | 6000 |
| 8 | 2000 | 6000 |
| 8 | 2500 | 6000 |
| 10 | 2000 | 6000 |
| 12 | 2000 | 6000 |
| 15 | 2000 | 6000 |
| 16 | 2000 | 6000 |
| 20 | 2000 | 6000 |
| 25 | 2000 | 6000 |
| 32 | 2000 | 6000 |
| 40 | 2000 | 6000 |
| 50 | 2000 | 6000 |
| 60 | 1800 | 3400 |
Abrex 500 and Similar Plates Origin Make :
BRAND
MANUFACTURING CO.
COUNTRY
HARDNESS RANGE
VALUES FOR BHN500

Hardox 500

SSAB

Sweden

470-530

QUARD 500

DUFERCO

Belgium

 

JFE EVERHARD 500LE

JFE STEEL CORPN.

Japan

477-556

SUMIHARD K500

SUMITOMO METALS

Japan

 

ABRAZO 500

TATA UK LTD.

UK

450-550

RAEX 500

RUUKKI

Finland

450-540

DILLIDUR 500V

DILLINGER HUTTE

Germany

450-550

XAR 500

THYSSEN KRUPP

Germany

460-530

XAR 600

THYSSEN KRUPP

Germany

560-640

BRINAR 500

ILSENBURGER GROBBLECH

Germany

 

FORA 500

INDUSTEEL

Belgium

460-540

NICRODUR 500

ACRONI

Europe

 

WELHARD 500

NSC/JAPAN

Japan

 

SWEBOR 500

SWEBOR STAL

Sweden

450-550 

BIS Plate 500

Bisalloy Steels Pty Ltd

Sweden

477-534

Rockstar 500

Essar Steel India Ltd.

India

450-540

Algo Tuf 500

Essar Steel India Ltd.

India

477-545

Abrex 500

NSSMC

Japan

450-550

Wearalloy500

Ford steel

Japan

477-544

Hardwear 500F

Arcelor Mittal.

Luxembourg

460-544

Roc 500

Arcelor Mittal

Luxembourg

444-555
Types of Hardox 500 Plates :
| | |
| --- | --- |
| Hardox 500 Wear Resistant steel Plate | Abrasion Resistant steel Hardox 500 Plates |
| Hardox 500 Brinel Wear Plate | Hardox 500 Steel Plate |
| Hardox ABREX 500 Plates | Hardox 500 Liner Plates |
| Hardox 500 HB Hardness Wear Plate | Hardox 500 Low-Temperature Plate |
| Hardox 500 Low-Temperature Plate | Higher Resistance Hardox 500 Plate |
| Hardox 500 Cold Rolled Steel Plate | Hardox 500 Hot Rolled Steel plate |
| Hardox 500 Stone Crusher Liner Plates | Hardox 500 EN 10051 Steel Wear Plates |
| Ar500 Nm500 Xar 500 500hb Abrasion Resistant Steel Plate | 500 HBW, 500 BHN, 500 HB,NM500 Hardox Plates |