Hollow Sections Steel RHS, CHS, SHS
Hollow Section Steel Tube SHS, RHS & CHS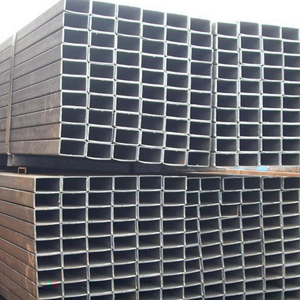 A Hollow Structural Section, or HSS, is a type of metal with a hollow tubular section. These sections can be Circular (CHS), Square (SHS) or Rectangular (RHS).
Hollow Structural Sections, especially RHS steel is commonly used in welded steel frames while SHS and CHS are more often used in columns. Hollow Steel Sections are also commonly used as beams.  The flat square surfaces of RHS has the ability to ease construction, and they are sometimes preferred for architectural aesthetics in exposed structures, but circular Hollow Structural Sections are becoming more popular in exposed structures for the same reasons.
NEW ARISE METAL provides high tensile strength hollow section which is used widely in various industries including automotive, machinery, furniture, construction etc. These sections come in various shapes and sizes and finishes. Most common among them include Rectangular Hollow Sections (RHS) and Square Hollow Sections (SHS) available in below mentioned
Size: 
Rectangular Hollow Sections (RHS): 26 mm X 13 mm – 400 mm X 200 mm,
Square Hollow Sections (SHS):  12 mm X 12 mm – 300 mm X 300 mm,
Thickness: 1.0 mm to 12.0 mm
Application Areas :
Our range of ERW tubes is available in a variety of dimensions and can also be customized as per the client's requirement.
ERW Pipes & Tubes / Black Steel Pipes & Tubes / Galvanized Pipes & Tubes have a wide application in
| | |
| --- | --- |
| Furniture industries | Fencing Poles Hydraulic Platforms |
| Truck & Bus body Members Trusses | Furniture partition frame work |
| Automatic Chasis | Material Storage Racks |
| Cabins | Columns & Purlins |
| Bus stands | Pallets |
| Milk Booths | Guard Rails |
| Scaffoldings | Staircases |
| Hand railings | Cranes |
| Trolleys | Construction |
| Machinery | Furniture |
| Automotive | Storage System |
| Transmission Tower | Domestic applications |