EN 31 Alloy Steel Round Bar Suppliers and Stockist in India
EN31 Round Bar, Rods, Stockist, Suppliers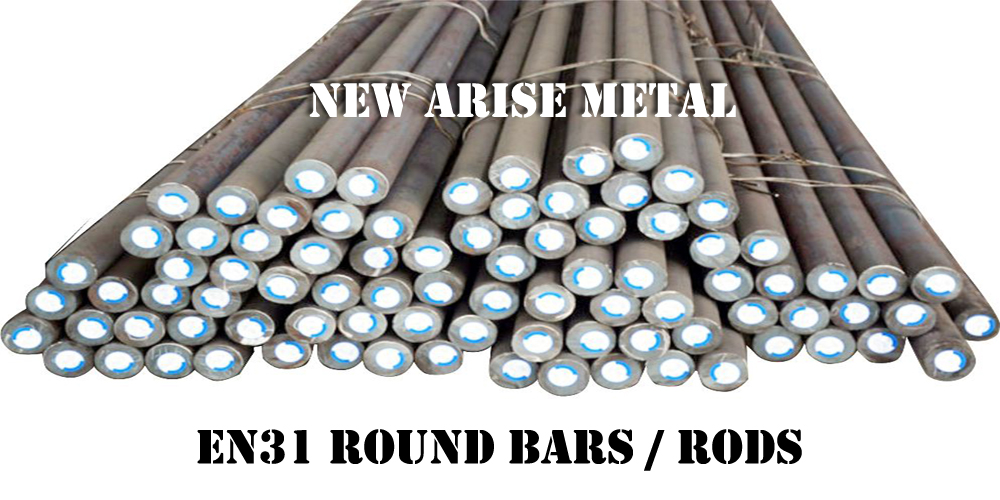 EN31 Round Bars Stockist, AISI / SAE EN31 Round Bars Manufacturer, EN31 Rods Suppliers, Dealer, Traders, Wholesalers.
EN31 Carbon Steel
What is EN31 ?
EN31 is a quality High Carbon Alloy Steel which offers a high degree of hardness with compressive strength and abrasion resistance.
We are EN31 Round Bar Stockist & Manufacturers.  We are only manufacturing from prime quality billets and blooms. The range of EN31 Round Bars which we manufacture for our customers are of high quality and these round bars are used for making machineries and OEM Auto components. These products have been made keeping in mind the quality parameters which have been set by the industry in the market. EN31 Round Bars are always supplied with the test certificates and can be supplied in bulk quantity as well as retail quantity as per customer's requirements. EN31 alloy Steel round bars are supplied by us to various industries.
EN31 is a very high strength steel alloy which is hardened and tempered before supplying and has nickel, chromium, molybdenum making it high tensile steel strength, with good ductility and wear resistance. With relatively good impact properties at low temperatures, EN31 is also suitable for a variety of elevated temperature applications. EN31 round bars have good internal strength and high external strength, which makes it highly wear resistant. EN31 steel round bars offer good combination of ductility, strength and wear resistance. EN31 is a very high strength alloy engineering steel.
New Arise Metal is the biggest & leading Supplier & Stockist of EN 31 in India. This Grade is quite often used for wear resisting machine constituents and for press instruments which don't advantage extra complex satisfactory.
International Specification Comparison :
| | |
| --- | --- |
| BRITISH BS 970:1991 | 535A99 |
| BRITISH BS 970:1955 | EN31 |
| GERMAN DIN | 100CR6 |
| FRENCH AFNOR | 100C6 |
| SWEDISH SS | 2258 |
| AMERICAN SAE / AISI | 52100 |
Chemistry / Chemical Composition of EN31 round bars :
| | | | | | | |
| --- | --- | --- | --- | --- | --- | --- |
| Grade | Carbon | Manganese | Silicon | Sulfur | Phosphorus | Chromium |
| EN31 | 0.95 / 1.10 | 0.40 / 0.70 | 0.10 / 0.35 | Max 0.050 | Max 0.040 | 1.20 - 1.60 |
We Supply EN31 Carbon Steel Round Bars in listed Cities in India:
Mumbai, Lucknow, Coimbatore, Imphal, Mysore, Ratlam, Delhi, Kanpur, Darjeeling, Jalandhar, Nagpur, Solapur, Kolkata, Allahabad, Dehradun, Jammu, Nashik, Srinagar, Chennai, Ahmedabad, Faridabad, Jamshedpur, Bhadravati, Chattisgarh, Durgapur, Asansol, Hospet, Bellary, Visakhapatnam, Nellore, Surat, Bangalore, Chandigarh, Ghaziabad, Jhansi, Patna, Siliguri, Hyderabad, Amritsar, Noida, Kochi (Cochin), Mangalore, Indore, Vadodra, Bhubaneswar, Bikaner, Bhavnagar, Tirupur, Ankleshwar, Warangal, Agartala, Thoothukudi, We offer fastest delivery in India including Thiruvanthapuram, Jaipur, Aizawl, Guwahati, Kozhikode, Raipur, Vishakhapatnam, Jabalpur, Bhopal, Gwalior, Ludhiana, Rajahmundry, Thane, Agra, Bhubaneshwar, Gurgaon, Madurai, Rajkot, Varanasi, Bhilai, Haridwar, Meerut, Ranchi, Ahmednagar, Akola, Amravati, Aurangabad, Baramati, Beed, Bhandara, Bhiwandi, Buldhana, Chandrapur, Chimur, Dahanu, Dhule, Dindori, Erandol, Gadchiroli, Hatkanangle, Hingoli, Ichalkaranji, Jalgaon, Jalna, Karad, Khed, Yavatmal, Kolaba, Kolhapur, Kopargaon, Latur, Malegaon, Mumbai, Nagpur, Nanded, Nandurbar, Nashik, Osmanabad, Pandharpur, Parbhani, Rajapur, Ramtek, Ratnagiri, Raver, Sangli, Satara, Shirdi, Shirur, Solapur, Thane, Wardha, Washim, Andhra Pradesh, Jammu and Kashmir, Nagaland, Uttarakhand, Haryana, Lakshadweep, Arunachal Pradesh, Jharkhand, Odisha, West Bengal, Himachal Pradesh, Assam, Karnataka, Punjab, Andaman and Nicobar Islands, Puducherry, Bihar, Kerala, Rajasthan, Chandigarh, Meghalaya, Chhattisgarh, Madhya Pradesh, Sikkim, Dadar and Nagar Haveli, Mizoram, Goa, Maharashtra, Tamil Nadu, Daman and Diu, Tripura, Gujarat, Manipur, Telangana, Delhi, Uttar Pradesh in India, Faridabad, Fatehpur, Gandhidham, Gandhinagar, Ghaziabad, Greater Hyderabad, Greater Mumbai, Greater Warangal, Gurgaon, Guwahati, Gwalior, Haldia, Howrah, Hubballi-Dharwad, Hyderabad, Imphal, Indore, Jabalpur, Jaipur, Jalandhar, Jammu, Jamnagar, Jamshedpur, Jhansi, Jodhpur, Junagadh, Kakinada, Kalyan-Dombivali, Kanpur, Karnal, Kavaratti, Kochi, Kohima, Kolhapur, Kolkata, Kota, Lucknow, Ludhiana, Madurai, Mehsana, Mangalore, Mangaluru, Mira-Bhayandar, Moradabad, Morbi, Mumbai, Muzaffarpur, Mysore, Nagpur, Namchi, Nasik, Navi Mumbai, NDMC, Nellore, New Delhi, New Town Kolkata, Noida, Oulgaret, Pali, Panaji, Panipat, Panvel, Pasighat, Patiala, Patna, Pimpri-Chinchwad, Port Blair, Puducherry, Pune, Raipur, Rajkot, Ranchi, Raurkela, Industrial Township, Rourkela, Sagar, Salem, Satna, Secunderabad, Shaharanpur, Shillong, Siliguri, Silvassa, Solapur, Srinagar, Surat, Thane, Thanjavur, Thiruvananthapuram, Thoothukudi, Thrissur, Tiruchirapalli, Tirunelveli, Tirupur, Tumkur, Udaipur, Ujjain, Ulhasnagar, Vadodara, Vapi, Varanasi, Vasai-Virar, Vellore, Vishakhapatnam, Agartala, Agra, Agra Rampur, Ahmedabad, Aizawl, Ajmer, Aligarh, Allahabad, Alwar, Amaravati, Ambala, Ambattur, Ambernath, Amravati, Amritsar, Aurangabad, Bangalore, Bareilly, Belgaum, Bhagalpur, Bhavnagar, Bhilai, Bhiwandi, Bhopal, Bhubaneswar, Bidhannagar, Biharsharif, Bikaner, Bilaspur, Bokaro, Chandigarh, Chennai, Chittoor, Coimbatore, Cuttack, Dahod, Davanegere, Dehradun, Delhi, Dhanbad, Dharamsala, Dindigul, Diu, Durgapur.
We Supply and Export EN31 Carbon Steel in the Listed Countries:
United States of America, Malaysia, UAE, Indonesia, Saudi Arabia, Iran, Qatar, India, China, United Kingdom, Singapore, Canada, Thailand, South Korea, Turkey, Philippines, Egypt, Germany, Italy, Japan, Russia, Vietnam, Australia, South Africa, Portugal, Morocco, Costa Rica, Kazakhstan, Netherlands, Mexico, Brazil, France, Spain, Taiwan, Nigeria, Bangladesh, Kuwait, Iraq, Ukraine, Poland, Jordan, Romania, Oman, Hong Kong, Venezuela, Colombia, Norway, Chile, Trinidad & Tobago, Greece, Czechia, Belgium, Sri Lanka, Cyprus, Angola, Myanmar (Burma), United Kingdom, Canada, South Korea, Thailand, Netherlands, Spain, Turkey, Australia, Mexico, Pakistan, Vietnam, Brazil, Philippines, France, Taiwan, Poland, South Africa, Russia, Nigeria, Kuwait, Czechia, Norway, Romania, Egypt, Oman, Sweden, Belgium, Hong Kong, Israel, Colombia, Switzerland, Denmark, Finland, Argentina, Venezuela, Peru, Ukraine, Chile, Bangladesh, Portugal, Ireland, Austria, Algeria, Greece, Iraq, New Zealand, Slovakia, Hungary, Kazakhstan, Slovenia, Lithuania, Serbia, Sri Lanka, Bahrain, Bulgaria, Morocco, Tunisia, Croatia, Jordan, Ecuador, Trinidad & Tobago, Estonia, Azerbaijan, Ghana, Lebanon, Cyprus, Dominican Republic, Latvia, Libya, Costa Rica, Cambodia, Macedonia (FYROM), Belarus, Jamaica, Palestine, Turkmenistan, Afghanistan, Bahrain, Costa Rica, Egypt, Iraq, Jordan, South Korea, Kazakhstan, Sri Lanka, Lithuania, Norway, Oman, Philippines, Poland, Qatar, Russia, Vietnam, South Africa, Nigeria, Mexico, Turkey, Hungary, Algeria, Angola, Argentina, Austria, Azerbaijan, Bangladesh, Belarus, Belgium, Bhutan, Bolivia, Bulgaria, Croatia, Czech Republic, Estonia, Finland, Greece, Italy, Japan, Libya, Romania, Thailand, Trinidad & Tobago,Tunisia, Ukraine, Yemen, Hong Kong, Gabon, China, Portugal, Switzerland, New Zealand, Sweden, Slovakia, Kenya, Lebanon, Morocco, Mongolia, India, United States, United Arab Emirates, Canada, Pakistan, Peru, Chile, Spain, France, United Kingdom, Indonesia, Israel, Iran, Kuwait, Mexico, Malaysia, Nigeria, Serbia, Singapore, Taiwan, Chile, Venezuela, Ecuador, Saudi Arabia, Netherlands, Brazil, Colombia, Ghana, Iran, Denmark, Poland, Australia.