Stockist & Supplier of Beryllium Copper Rod, Round bar, etc From Mumbai
Beryllium Copper Rods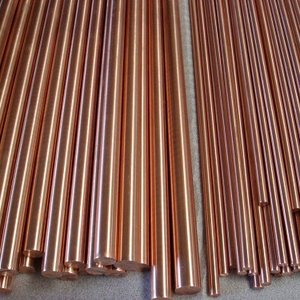 We NEW ARISE METAL offer a wide assortment of Beryllium Copper Rod. It is a metal alloy of copper and beryllium, and sometimes with other alloying elements. Possessing significant metalworking and operating performance qualities it is widely demanded by Engineering, Electrical and Electronics industries. Properties of Beryllium copper.
We specialize in 172 beryllium bars, but offer an additional selection of Beryllium Copper Bar in a variety of additional specifications and offer cut to length programs from our strategically located facilities around the world.  Browse our extensive selection of beryllium copper round bar here
C17200 (AMS 4535) Beryllium Copper Round
C17200 Beryllium Copper (AMS 4535) is the most specified copper beryllium and is available at New Arise Metal in both Solutions and Precipitation Heat Treated tubing as well as Solution Heat Treated Rod and Bars.
C173 BERYLLIUM COPPER ROUND BAR
Beryllium Copper Round Bar C173 is strong as alloy steel, but with superior conductivity, non-sparking, non-magnetic and excellent corrosion resistance. C173 is the "free machining" alloy in the Beryllium Copper family. These bars come in a hard temper and unpolished finish. It is commonly used in hazardous environments, the oil, coal, and natural gas industries, and aerospace applications.
C173 is very similar to C172, but machines more easily.


Features:
Dimensionally accurately

Corrosion Resistant

Good Conductivity

High tensile strength

Strong Resonance

Abrasion Property
Applications:


Water Treatment Plants

Breweries

Oil and gas plants

Engineering Industries

Heat Exchangers

Radiator

Generator
BERYLLIUM COPPER BAR
Size (inches)
Grade
Specification

  1/4

C17200

AMS 4533, ASTM B196, QQ-C-530, AMS 4534, AMS 4535, AMS 4650, AMS 4651

  3/8

C17200

AMS 4533, ASTM B196, QQ-C-530, AMS 4534, AMS 4535, AMS 4650, AMS 4651

  1/2

C17200

AMS 4533, ASTM B196, QQ-C-530, AMS 4534, AMS 4535, AMS 4650, AMS 4651

  5/8

C17200

AMS 4533, ASTM B196, QQ-C-530, AMS 4534, AMS 4535, AMS 4650, AMS 4651

  3/4

C17200

AMS 4533, ASTM B196, QQ-C-530, AMS 4534, AMS 4535, AMS 4650, AMS 4651

  7/8

C17200

AMS 4533, ASTM B196, QQ-C-530, AMS 4534, AMS 4535, AMS 4650, AMS 4651

1

C17200

AMS 4533, ASTM B196, QQ-C-530, AMS 4534, AMS 4535, AMS 4650, AMS 4651

1  1/8

C17200

AMS 4533, ASTM B196, QQ-C-530, AMS 4534, AMS 4535, AMS 4650, AMS 4651

1  1/4

C17200

AMS 4533, ASTM B196, QQ-C-530, AMS 4534, AMS 4535, AMS 4650, AMS 4651

1  3/8

C17200

AMS 4533, ASTM B196, QQ-C-530, AMS 4534, AMS 4535, AMS 4650, AMS 4651

1  1/2

C17200

AMS 4533, ASTM B196, QQ-C-530, AMS 4534, AMS 4535, AMS 4650, AMS 4651

1  5/8

C17200

AMS 4533, ASTM B196, QQ-C-530, AMS 4534, AMS 4535, AMS 4650, AMS 4651

1  3/4

C17200

AMS 4533, ASTM B196, QQ-C-530, AMS 4534, AMS 4535, AMS 4650, AMS 4651

1  7/8

C17200

AMS 4533, ASTM B196, QQ-C-530, AMS 4534, AMS 4535, AMS 4650, AMS 4651

2

C17200

AMS 4533, ASTM B196, QQ-C-530, AMS 4534, AMS 4535, AMS 4650, AMS 4651

2  1/8

C17200

AMS 4533, ASTM B196, QQ-C-530, AMS 4534, AMS 4535, AMS 4650, AMS 4651

2  1/4

C17200

AMS 4533, ASTM B196, QQ-C-530, AMS 4534, AMS 4535, AMS 4650, AMS 4651

2  3/8

C17200

AMS 4533, ASTM B196, QQ-C-530, AMS 4534, AMS 4535, AMS 4650, AMS 4651

2  1/2

C17200

AMS 4533, ASTM B196, QQ-C-530, AMS 4534, AMS 4535, AMS 4650, AMS 4651

3

C17200

AMS 4533, ASTM B196, QQ-C-530, AMS 4534, AMS 4535, AMS 4650, AMS 4651

3  1/2

C17200

AMS 4533, ASTM B196, QQ-C-530, AMS 4534, AMS 4535, AMS 4650, AMS 4651

4

C17200

AMS 4533, ASTM B196, QQ-C-530, AMS 4534, AMS 4535, AMS 4650, AMS 4651

4  1/2

C17200

AMS 4533, ASTM B196, QQ-C-530, AMS 4534, AMS 4535, AMS 4650, AMS 4651

5

C17200

AMS 4533, ASTM B196, QQ-C-530, AMS 4534, AMS 4535, AMS 4650, AMS 4651

5  1/2

C17200

AMS 4533, ASTM B196, QQ-C-530, AMS 4534, AMS 4535, AMS 4650, AMS 4651

6

C17200

AMS 4533, ASTM B196, QQ-C-530, AMS 4534, AMS 4535, AMS 4650, AMS 4651