1.7131 Alloy Steel Round Bars, Hex, Rods
1.7131 Round Bars Stockist & Suppliers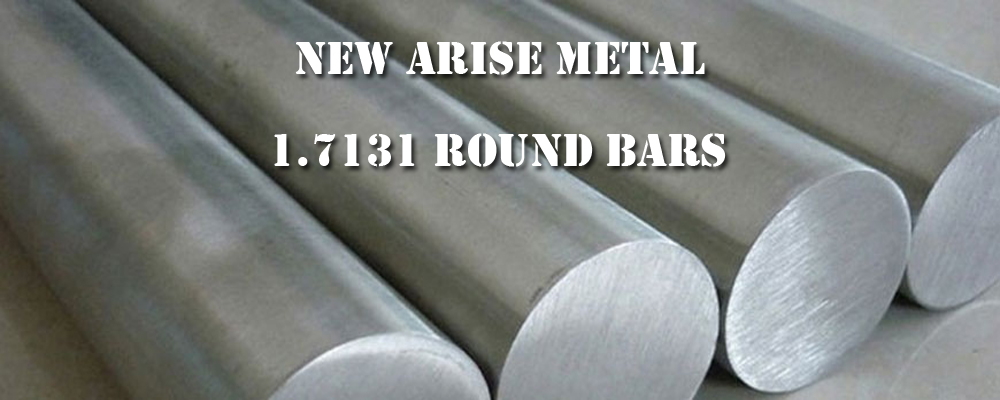 1.7131 Round Bar Steel For Case Hardening
New Arise Metal is a well known Stockist of Die Steel Bars, which are popular for their unique features like strength, durability and corrosion resistance. Our Die Steel 1.7131 / 16MnCr5 Bars is widely accepted in such industries as dairy, beverage and other food industries where the highest degree of sanitation and cleanliness is of prime importance. These Die Steel DIN 1.7131 Rods is installed to distribute the pipelines for transferring of water and other liquids, where further it is widely demanded in the food & beverage, dairy and many other industries. Relying on our expertise and know-how in this field, we are well-known as one of the prestigious organization in offering a wide design of our Die Steel 1.7131/ 16MnCr5 Bright Bars, which is developed at well-equipped production unit by making use of sophisticated machines and high grade quality raw materials.
These Die Steel WNR 1.7131 Square Bars has features to offer such as Can be re-used, Close tolerance for accurate alignment, Easy to fit and remove, Fully de-burred, and more. Backed by the assistance of our experienced professionals, we have been able to offer a qualitative range of our Die Steel 16MnCr5 Flat Bars, which is exclusively manufactured by our skilled professionals using the finest grade raw material and high-end technology. These Die Steel DIN 1.7131 Hexagonal Bars has great mechanical properties at subzero temperatures, which are developed as per the international quality standards by employing advanced grade materials.
1.7131 Bright Round Bars, 1.7131 Round Bars, 1.7131 Hex bars, Die Steel Cold Finish Round Bar, 16MnCr5 Steel Flat Bar Suppliers in Mumbai, DIN 1.7131 Steel Threaded Rods, Die Steel Rectangular Bars Traders, 16MnCr5 Hot-Rolled Round Rods Stockyards.
Specifications :
| | |
| --- | --- |
| Standard |  AISI, ASTM, BS, DIN, GB, JIS, AISI, JIS, DIN, GB |
| Material |  16MnCr5, 1.7131 |
| Round Diameter |  5mm to 300 mm |
| Length |  100 mm to 10,000 mm |
| Finish |  Bright, Polish & Black |
| Form |  Round, Square, Hex (A/F), Rectangle, Wire (Coil Form), Wiremesh, Billet, Ingot, Forging Etc., |
| Condition |  Cold Drawn & Polished Cold Drawn, Centreless Ground & Polished |
| Other Services |  Machining (CNC), Centreless Grinding (CG), Heat Treatment, Anneling, Pickling, Polish, Rolling, Forging, Cutting, Bending, Minor Fabrication |
Chemistry of 1.7131 Cold Drawn Round Bars Chemical Composition :
Grade
Element
1.7131 / AISI:5115
C
Mn
Si
P
S
Cr
Mo

0.14-0.19%

1.00-1.30%

0.40% max

0.035% max

0.035% max

0.80-1.10%

0.15-0.30
Equivalent grades of Steel  1.7131 :
Only for reference
| | | | | | | | | | | | | |
| --- | --- | --- | --- | --- | --- | --- | --- | --- | --- | --- | --- | --- |
| EU  | USA | Germany | France | England | Italy | Spain | China | Sweden | Poland | Czechia | Russia | Inter |
| EN | - | DIN,WNr | AFNOR | BS | UNI | UNE | GB | SS | PN | CSN | GOST | ISO |
| 16MnCr5 | SAE5115 | 16MnCr5 | 16MC5 | 527M17 | 16MnCr5 | 16MnCr5 | 15CrMn | 2127 | 15HG | 14220 | 18KHG | 16MnCr5 |
|   |   | 1.7131 |   | 590M17 |   |   | 16MnCr |   |   |   |   |   |
|   |   |   |   |   |   |   | 20CrMnTi |   |   |   |   |   |
Applications :
DIN 16MnCr5 | 1.7131 steel is widely used for a variety of applications in the used to the gearings in rotating machinery. Typical applications such as valve bodies, pumps and fittings, the high load of wheel, bolts, double-headed bolts, gears, internal combustion engine. Electric locomotives, machine tools, tractors, steel rolling equipment, boring machine, railway vehicle, and mining machinery transmission shaft on the steel ball, roller and shaft sleeve, etc.
Processing :
DIN 16MnCr5 | 1.7131 gearing steel round bar and flat sections can be cut to your required sizes. 16MnCr5 | 1.7131 gearing steel ground bar can also be supplied, providing a high quality tool steel precision ground tool steel bar to your required tolerances. DIN 16MnCr5 | 1.7131 steel is also available as Ground Flat Stock / Gauge Plate, in standard and nonstandard sizes.
Other Types of Die Steel Round Bars & Rods :
Die Steel Round Bars, 1.7131 Steel Round Bars Traders, 16MnCr5 Steel Round Bars, Cold Work Die Steel Square Bar, Hot Die Steel Round Bars, 16MnCr5 1.7131 Steel hot finished hexagon Rods, DIN 1.7131 cold finished 16MnCr5 Steel Hex Bars, Lowest Price 1.7131 Die Steel Bars wholesalers, Exporters of 16MnCr5 Steel Round Rods Stockholders and Stockists, Buy Cheap Die Steel Round Bars, 1.7131 Steel Forged Round Bars, Die Steel Bright Bars, Die Steel 16MnCr5 Hot Rolled Round Bars Distributors in Maharashtra, Die Steel 1.7131 Half Round Rods, 16MnCr5 Die Steel Flat Bars, 1.7131 Die Steel Rectangular Bars vendors, Die Steel Threaded Rod, Die Steel 1.7131 Triangle Bars, DIN 1.7131 Round Profile Bars, Die Steel Polished Round Bars Stockyard, Die Steel Smooth Turned Round Bars, 16MnCr5 Steel Rough Turned Bar, 16MnCr5 Die Steel Peeled Round Bars Manufactures in Mumbai India.
We are Suppliers and Exporters of 1.7131 Round Bar and Hex in Cities Like:
Mumbai, Delhi, Bangalore, Hyderabad, Ahmedabad, Chennai, Kolkata, Surat, Pune, Jaipur, Lucknow, Kanpur, Nagpur, Indore, Thane, Bhopal, Visakhapatnam, Pimpri & Chinchwad, Patna, Vadodara, Ghaziabad, Ludhiana, Agra, Nashik, Faridabad, Meerut, Rajkot, Kalyan &, Dombivali, Vasai Virar, Varanasi, Srinagar, Aurangabad, Dhanbad, Amritsar, Navi Mumbai, Allahabad , Ranchi ,Haora, Coimbatore, Jabalpur, Gwalior, Vijayawada, Jodhpur, Madurai, Raipur, Kota, Guwahati, Chandigarh, Solapur, Hubli and Dharwad, Bareilly, Moradabad, Mysore, Gurgaon, Aligarh, Jalandhar, Tiruchirappalli, Bhubaneswar, Salem, Mira and,, Bhayander, Thiruvananthapuram, Bhiwandi, Saharanpur, Gorakhpur, Guntur, Bikaner, Amravati, Noida, Jamshedpur, Bhilai Nagar, Warangal, Cuttack, Firozabad, Kochi, Bhavnagar, Dehradun, Durgapur, Asansol, Nanded Waghala, Kolapur, Ajmer, Gulbarga, Jamnagar, Ujjain, Loni, Siliguri, Jhansi, Ulhasnagar, Nellore, Jammu, Sangli Miraj Kupwad, Belgaum, Mangalore, Ambattur, Tirunelveli, Malegoan, Gaya, Jalgaon, Udaipur, Maheshtal, Mumbai, Ulsan, Hanoi, Nagpur, Dallas, Doha, Surat, Port-of-Spain, Australia, Faridabad, Los Angeles, Rio de Janeiro, Sharjah, Ahmedabad, Muscat, Thane, Jamshedpur, Karachi, Chiyoda, Kuwait City, Geoje-si, Baroda, Mexico City, Turkey, Kanpur, Ranchi, Gurgaon, Gimhae-si, Hong Kong, Algiers, Hyderabad, Rajkot, Toronto, Aberdeen, Chennai, Perth, Sydney, Madrid, Visakhapatnam, Jaipur, Ludhiana, Atyrau, Abu Dhabi, Edmonton, Vung Tau, Navi Mumbai, Montreal, Dubai, Calgary, Bangkok, New Delhi, Petaling Jaya, Manama, Courbevoie, Kuala Lumpur, Jeddah, Granada, Santiago, Ho Chi Minh City, Singapore, New York, La Victoria, Dammam, Chandigarh, Busan, Ernakulam, Houston, Caracas, London, Nashik, Istanbul, Haryana, Moscow, Pimpri-Chinchwad, Colombo, Bogota, Vadodara, Pune, Riyadh, Lagos, Kolkata, Secunderabad, Seoul, Bhopal, Milan, Lahore, Cairo, Coimbatore, Ahvaz, Al Jubail, Noida, Bengaluru, Howrah, Thiruvananthapuram, Indore, Tehran, Al Khobar, Brisbane, Jakarta.
We are Suppliers and Exporters of 1.7131 Round Bar and Hex in Countries like :
India, Saudi Arabia, Bangladesh, United States, United Arab Emirates, Canada, Angola, Argentina, Austria, Azerbaijan, Pakistan, Peru, Chile, Spain, France, United Kingdom, Indonesia, Israel, Iran, Kuwait, Mexico, Malaysia, Nigeria, Serbia, Singapore, Taiwan, Chile, Venezuela, Ecuador, Netherlands, Brazil, Colombia, Ghana, Iran, Denmark, Poland, Australia, Afghanistan, Bahrain, Costa Rica, Egypt, Iraq, Jordan, South Korea, Kazakhstan, Sri Lanka, Lithuania, Norway, Oman, Philippines, Poland, Qatar, Russia, Vietnam, South Africa, Nigeria, Mexico, Turkey, Hungary, Algeria, Belarus, Belgium, Bhutan, Bolivia, Bulgaria, Croatia, Czech Republic, Estonia, Finland, Greece, Italy, Japan, Libya, Romania, Thailand, Trinidad & Tobago,Tunisia, Ukraine, Yemen, Hong Kong, Gabon, China, Portugal, Switzerland, New Zealand, Sweden, Slovakia, Kenya, Lebanon, Morocco, Mongolia, Kenya, Algeria, Serbia, Sri Lanka, Gabon, Venezuela, brazil, Italy, Hong Kong, Taiwan, Kazakhstan, Denmark, Vietnam, Romania, Netherlands, Oman, New Zealand, Bahrain, Australia, South Africa, Norway, Slovakia, Ukraine, Russia, Chile, Czech Republic, France, Lebanon, Iran, Austria, Switzerland, Israel, Japan, United Arab Emirates, Namibia, Azerbaijan, Nigeria, Morocco, cyprus, Belarus, Greece, Ecuador, Lithuania, Trinidad & Tobago,Tunisia, Iran, Afghanistan, Libya, Singapore, Croatia, Colombia, Brazil, Bolivia, Qatar, Poland, Bangladesh, United Kingdom, Gambia, Puerto Rico, Macau, Mongolia, Hungary, Mexico, India, Bhutan, Indonesia, Zimbabwe, Bulgaria, Turkey, Costa Rica, Poland, United States, China, Philippines, Thailand, Spain, Ireland, Saudi Arabia, Mexico, South Korea, Sweden, Jordan, mexico, srilanka, thailand, malaysia, Argentina, Nigeria, Kuwait, Yemen, Chile, Tibet, Belgium, Egypt, Malaysia, Portugal, Canada, Ghana, Estonia, Nepal, Germany, Peru, Finland.
People also search as
16MnCr5 Steel Round Bar, Hot Die Steel Rods, AISI 1.7131 Hot–Finished Round Bars Exporters, DIN 1.7131 Steel Cold Drawn Round Bars Suppliers, Die Steel Bright Round Rod Manufactures, 16MnCr5 Die Steel Forged Bars, Die Steel Peeled / Turned Round Bars Stockholders in Mumbai India, Die Steel Hexagon Bars, 16MnCr5 Welding Rod, 1.7131 Steel Square Bar, 16MnCr5 Steel Hex Rods Dealers in India, Die Steel Polished Bars Stockists, Hot Die Steel Round Bars Distributors in Mumbai.
| | |
| --- | --- |
| Din 1.7131 Round Bars Stockist | Din 1.7131 Hex Bars Stockist |
| Din 1.7131 Round Bars Suppliers | Din 1.7131 Hex Bars Suppliers |
| Din 1.7131 Round Bars Exporters | Din 1.7131 Hex Bars Exporters |
| Din 1.7131 Round Bars Traders | Din 1.7131 Hex Bars Traders |
| Din 1.7131 Round Bars Dealers | Din 1.7131 Hex Bars Dealers |
| Din 1.7131 Round Bars Manufacturers | Din 1.7131 Hex Bars Manufacturers |
| Din 1.7131 Round Bars Mumbai | Din 1.7131 Hex Bars Mumbai |
| Din 1.7131 Round Bars India | Din 1.7131 Hex Bars India |
| Din 1.7131 Bright Round Bars Stockist | Din 1.7131 Bright Hex Bars Stockist |
| Din 1.7131 Black Round Bars Stockist | Din 1.7131 Black Hex Bars Stockist |
DIN 1.7131 Alloy Steel Round Bar Application :
» DIN 1.7131 Alloy Steel Round Bar uses in Oil and Gas Pipeline
» DIN 1.7131 Alloy Steel Round Bar uses in Chemical Industry
» DIN 1.7131 Alloy Steel Round Bar uses in Plumbing
» DIN 1.7131 Alloy Steel Round Bar uses in Heating
» DIN 1.7131 Alloy Steel Round Bar uses in Oil & Gas Industry
» DIN 1.7131 Alloy Steel Round Bar uses in Water Supply Systems
» DIN 1.7131 Alloy Steel Round Bar uses in Paper & Pulp Industry
» DIN 1.7131 Alloy Steel Round Bar uses in Power Plant
» DIN 1.7131 Alloy Steel Round Bar uses in Fabrication Industry
» DIN 1.7131 Alloy Steel Round Bar uses in General purpose applications
» DIN 1.7131 Alloy Steel Round Bar uses in Food Processing Industry
» DIN 1.7131 Alloy Steel Round Bar uses in Structural Pipe
» DIN 1.7131 Alloy Steel Round Bar uses in Heat Exchangers
» DIN 1.7131 Alloy Steel Round Bar uses in also used for other industrial purpose etc