Nimonic 80A Rods, Round Bars, UNS N07080 Bars, Alloy 80A, Bright Bar, Supplier & Stockist.
Nimonic 80A / NIMONIC Alloy 80A / UNS N07080 / Nickel Alloy 80A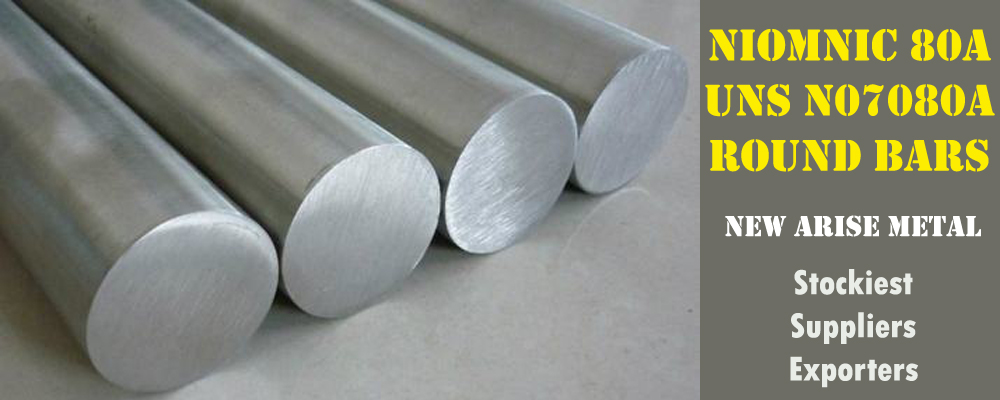 Nimonic 80A / NIMONIC Alloy 80A / UNS N07080 / Nickel Alloy 80A
Introduction :
Nimonic refers to a family of Nickel based High Temperature Low Creep Super Alloys. Nimonic alloys typically consist of more than 50% Nickel and 20% Chromium with additives such as Titanium and Aluminium.
The main use is in gas turbine components and extremely high performance reciprocating internal combustion engines. It has largely been superseded by Nimonic 90 and Inconel X-750, but because of the low Cobalt content, it is still specified for nuclear applications.
NIMONIC alloys are primarily composed of nickel and chromium. These alloys are known for their high-temperature low-creep and high performance. Additives like aluminium, carbon and titanium are infused into the alloy. The NIMONIC alloy was first developed in 1940 in England. NIMONIC alloys available commercially are NIMONIC 75, NIMONIC 80A, 81, 86, NIMONIC PE11 and 16.
NIMONIC alloy 80A is a wrought, age-hardened alloy that is strengthened by additives like titanium, aluminium and carbon. It is manufactured by high-frequency melting and casting in air. It is similar to NIMONIC alloy 75. It has good corrosion and oxidation resistance. The creep rupture and tensile properties are high at 815°C (1500°F).
NIMONIC 80A (UNS N07080 / W. Nr. 2.4952 & 2.4631) is a wrought, age-hardenable Nickel-Chromium Alloy, strengthened by additions of titanium, aluminum and carbon, developed for service at temperatures up to 815°C (1500°F). It is produced by high-frequency melting and casting in air for forms to be extruded. Electro slag refined material is used for forms to be forged. Vacuum refined versions are also available. NIMONIC alloy 80A is currently used for gas turbine components (blades, rings and discs), bolts, nuclear boiler tube supports, die casting inserts and cores, automobile exhaust valves and exhaust valves in internal-combustion engines.
Nimonic® 80A is also known as Nicrofer 7520 Ti, Pyromet 80A, Superimphy 80A, and Udimet 80A.
Chemical Composition :
The chemical composition of NIMONIC alloy 80A is given in the following table.
| | | | | | | |
| --- | --- | --- | --- | --- | --- | --- |
| Grade | Ni | Cr | Co | Ti | Al | Fe |
| Nimonic 80A | 69.0 Max | 18.0 - 21.0 | 2.0 Max | 1.8-2.7 | 1.0-1.8 | 3.0 Max |
Physical Properties :
The following table discusses the physical properties of NIMONIC alloy 80A.
| | | |
| --- | --- | --- |
| Properties | Metric | Imperial |
| Density | 8.19 gm/cm3 | 0.296 lb/in3 |
Mechanical Properties :
The mechanical properties of NIMONIC alloy 80A are tabulated below.
| | | |
| --- | --- | --- |
| Properties | Metric | Imperial |
| Tensile Strength (annealed) | 1250 MPa | 181 ksi |
| Yield Strength (annealed) | 780 MPa | 113 ksi |
| Elongation at Break | 0.3 | 0.3 |
Typical Mechanical Properties :
| | | | | | |
| --- | --- | --- | --- | --- | --- |
| Material | Condition | Ultimate Tensile Strength ksi | Yield Strength ksi | Elongation on 4D (min) | Hardness min |
| Alloy 80A | Solution Annealed & Precipatation Treated (aged) | 145 | 90 | 20 | 300 HV |
Availability :
Nimonic Alloy 80A is available in Round Bar, Flat Bar, Rod, Tube, Plate, Sheet, Strip, Forging Stock and Wire.
Specifications :
| | |
| --- | --- |
| Nimonic 80A Rod, Bar, Wire and Forging Stock | BS 3076 HR1, ASTM B 637, AECMA PrEn2188, AECMA PrEn2189, AECMA PrEn 2190, AECMA PrEn 2396, AECMA PrEn2397, AIR 9165-37 |
| Nimonic 80A Plate, Sheet and Strip | BS HR 201, AECMA PrEn2191 |
| Nimonic 80A Pipe and Tube | BS HR 401 |
| Nimonic 80A Other | BS HR 601, BS HR1, DIN 17742, AFNOR NC 20TA, UNS N07080, Werkstoff Nr 2.4952, Werkstoff Nr 2.4631, NIMONIC 80a (trademark), MSRR 7095 and MSRR 7011, MSRR 7013, HR201, HR401, HR601, NA20, VAT80A |
Many sizes and forms available – Nimonic Alloy 80A Bar, Nimonic 80A Extruded Section, Nimonic  Alloy 80A Tube, Alloy 80A Plate, Alloy 80A Sheet, Alloy 80A Wire.
Other Designations :
Some of the other designations that are used to denote NIMONIC 80A Alloy are as below:-
UNS N07080

BS 3076 NA 20

BS HR1

BS HR401

BS HR601

HR201

ASTM B637

DIN 17742

DIN17754

Nr 2.4952

Nr 2.4631

AWS 031
Applications of Nimonic 80A Grade :
The NIMONIC alloy 80A is used in the following applications:
Gas turbine engineering

Automobile exhaust valves

Die-casting inserts and cores

Nuclear boiler tube parts

Gas turbine components

Nuclear industry

Fasteners

Turbine Blades

Turbine Wheel
Fabrication:
Machinability:
The conventional machining techniques used on iron alloys may be used for this alloy. This alloy work-hardens during machining.
Welding:
NIMONIC alloy 80A can be welded using common techniques, using a matching filler metal. A prerequisite for welding is that the metal should be solution treated. Fusion welding by tungsten inert gas welding and metal inert gas welding will be suitable for this alloy.
Hot working:
NIMONIC alloy 80A can be hot worked at temperature ranges of 1050-1200°C (1920-2190°F).
Forging:
NIMONIC alloy 80A can be hot forged at temperatures in the range of 982-1176°C (1800-2150°F).
Cold working:
Cold working may be done on the alloy.
Annealing:
NIMONIC alloy 80A should be annealed at 1079°C (1975°F) for about 8 hours and air cooled.
We New Arise Metal are one of the Largest Stockist of Nimonic 80A Round Bar, Rods, Flat Bars etc. We are also one of the Major Supplier, Exporter and Importer of Nimonic 80A.
For any Inquiry regarding Nimonic 80A Round bar & Rods email us at This email address is being protected from spambots. You need JavaScript enabled to view it. .
Largest Stock Holder, Stockist of Nimonic 80A in Mumbai, Maharashtra, India.
Nimonic 80A Round Bar availability worldwide :
Our ready stock of Nimonic 80A Round Bar is also available in top countries such as Saudi Arabia, UAE, Iran, Turkey, Egypt, Thailand, Indonesia, Vietnam, Mexico, Italy, Europe, Brazil, Chile, Venezuela, who can help you to buy Nimonic 80A Round Bar and joints and can provide you all the information as per your requirements. We are Experts in exporting Nimonic 80A Round Bar to over 45 countries including UAE, UK, Iran, Iraq, Qatar, Bahrain, Oman, Yemen, Lebanon, Jordan, Saudi Arabia, Malaysia, Indonesia, Singapore, Australia, New Zealand, USA, Canada, Mexico, Brazil, Netherlands, Germany, Italy, Spain, Serbia, Kuwait, Peru, Nigeria, Poland, South Africa, Denmark, Turkey, Egypt, Venezuela, Kuwait, Madagascar, Angloa, Sri Lanka, Saudi Arabia etc.
Leading manufacturer of Nimonic 80A Round Bar :
We can supply Nimonic 80A Round Bar similar to BGH-Germany, Viraj Profiles Limited (VPL)-India, Mukand Infinite Resoive-India, And Special Steel Group of Companies-UK quality.
Types of Available Products ASME, ASTM, EN, BS, GB, Nimonic Alloy 80A Round Bars:
| | |
| --- | --- |
| Nimonic 80A Stockist | Nimonic 80A Supplier |
| Nimonic 80A Exporter | Nimonic 80A Mumbai, Maharashtra, India Stockiest |
| Nimonic Alloy 80A Rods | Nimonic Alloy 80A Threaded Bars Stockiest in India |
| Nimonic 80A Round Bars | Nimonic 80A Cold Drawn & Polished Square Bars  |
| ASTM B637 Nimonic Alloy 80A Bars | Austenitic ASTM Bright Nimonic Alloy 80A Bar |
| Nimonic Alloy UNS N07080 Round Bars | Nimonic Alloy DIN 2.4631 Round Bars |
| ASTM B637 80A Nimonic Alloy Rods Manufacturer | AISI Nimonic Alloy 80A Hexagon Bars Dealers |
| B348 Nimonic 80A Polish Bars Manufacturer | Standard ASTM B637 Nimonic 80A Cold Drawn Bars Stockholder |
| AISI Nimonic 80A Black Bars Distributors | High Speed Steel Alloy 80A Hollow Bar Suppliers |
| Top Quality High Nimonic Alloy 80A Steel Bars | ASME, ASTM, EN, BS, GB, Nimonic Alloy 80A Flat Bars |
| Nimonic 80A Bright Bar Exporter | Nimonic Alloy 80A Round Bar Suppliers |
| ASME SB 637 Nimonic 80A Forged Round Bars | Cold Rolled JIS Nimonic 80A Rods |
We Supply Nimonic 80A Round Bars, Rods, Flat Bars to:
Ankara, La Victoria, Bhopal, Jakarta, Montreal, Los Angeles, Perth, Atyrau, Dubai, Al Jubail, Thiruvananthapuram, Ludhiana, Nashik, Nagpur, Jamshedpur, Colombo, Kuala Lumpur, Busan, Doha, Jaipur, Petaling Jaya, Granada, Aberdeen, Bangkok, Thane, Baroda, Surat, Noida, Al Khobar, Rajkot, Melbourne, Ernakulam, Kanpur, Bogota, Port-of-Spain, Bengaluru, Singapore, Madrid, Algiers, Ahvaz, Visakhapatnam, Manama, New Delhi, Lagos, Howrah, Mexico City, Calgary, Houston, Toronto, Hong Kong, Sharjah, Tehran, Ahmedabad, Lahore, Ho Chi Minh City, Mumbai, Dallas, Istanbul, Seoul, Gurgaon, Riyadh, Sydney, Dammam, Vung Tau, Ranchi, Gimhae-si, Chandigarh, Haryana, Jeddah, Faridabad, Edmonton, Indore, Kuwait City, Geoje-si, Cairo, Karachi, Kolkata, Moscow, Brisbane, Hanoi, Santiago, Chennai, Muscat, Navi Mumbai, Pimpri-Chinchwad, Courbevoie, Rio de Janeiro, Hyderabad, Vadodara, London, Abu Dhabi, Secunderabad, Caracas, Coimbatore, Chiyoda, Milan, Pune, New York, Ulsan
We Export Nimonic 80A Round Bars, Rods, Flat Bars to:
India, Argentina, Kazakhstan, Russia, Morocco, Israel, Oman, Serbia, Hong Kong, Ecuador, Romania, Costa Rica, Bangladesh, Egypt, Pakistan, Belarus, Thailand, Ghana, Singapore, Bulgaria, Ireland, Angola, Australia, Hungary, Saudi Arabia, Chile, Peru, France, Macau, Kuwait, Venezuela, Nigeria, Malaysia, Belgium, Namibia, Spain, Finland, Azerbaijan, South Africa, Algeria, Mexico, Estonia, Nepal, Sweden, Chile, Greece, Mexico, Czech Republic, Brazil, Italy, Iraq, United States, Poland, Yemen, Puerto Rico, Switzerland, Slovakia, Turkey, Jordan, Iran, Poland, Ukraine, Gambia, Afghanistan, Vietnam, Germany, New Zealand, United Arab Emirates, Lebanon, China, Japan, United Kingdom, Austria, Libya, Norway, Trinidad & Tobago, Tunisia, Portugal, Gabon, Colombia, Qatar, Netherlands, Denmark, Sri Lanka, Canada, Lithuania, Zimbabwe, Iran, Indonesia, Bahrain, Mongolia, Bolivia, Bhutan, Philippines, Nigeria, Taiwan, South Korea, Croatia, Kenya, Tibet