ASTM A194 Gr.2H Fastners Manufacturer and Stockist
ASTM A194 Grade 2H Heavy Hex Nut
ASTM A194 Grade 2H
ASTM A194 Grade 2H Heavy Hex Nuts are produced from Medium Carbon Alloy Steel, Quenched and Tempered. This A194 Grade 2H nuts are manufactured from Premium Quality Material. We Produce these heavy hex nuts in various sizes.
We New Arise Metal are specialized in manufacturing a wide assortment of superior quality Grade 2H Nut, which resist to rust and chemical and serve the users long duration. Developed using raw materials of highest quality & high tensile, these nut are used in different industries for assembling and fixing the machines and equipment. Sophisticated infrastructure enables us to manufacture the dimensionally accurate and functionally superior nut in varied sizes and dimensions.
What is Heavy Hex Nuts ?
Heavy hex nuts are slightly Larger and Thicker than standard (finished) hex nuts. There are numerous grades and the heavy pattern is typically used for large diameter and high strength bolts. Since hot-dip galvanizing typically adds 2.2 to 5 mils of thickness to the threaded portion of a fastener, galvanized heavy hex nuts are tapped oversize to compensate for the corrosion resistant coating on the bolts.
Stock :
Diameters: 3/8″ – 2-3/4″
Origin: Domestic and import
Finish: Plain and hot-dip galvanized
Grades: A194 Grade 2H
Product Details:
| | |
| --- | --- |
| Minimum Order Quantity |   500 Onwards |
| Surface finished |   Powder Coated |
| Material Grade |   SA194 Gr.2H, SA194 Gr.2HM, SA194 Gr.8, SA194 Gr.4, SA194 Gr.8M |
| Size |   Dia. M8 to M100 & 3/8" to 4" |
| Material |   Mild Steel |
| | |
| --- | --- |
| Grade | Description |
| ASTM A194 Gr. 2H Hex Nuts | Quenched & tempered carbon steel heavy hex nuts |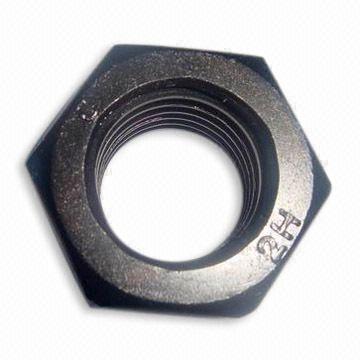 A194 Chemical Properties :
| | |
| --- | --- |
| Element | 2, 2H, and 2HM |
| Carbon | 0.40% min |
| Manganese | 1.00% max |
| Phosphorus, max | 0.0004 |
| Sulfur, max | 0.0005 |
| Silicon | 0.40% max |
| Chromium | - |
| Nickel | - |
| Molybdenum | - |
Mechanical Properties :
Nut -Grade Identification Markings
All markings shown for all grades of A194 are for cold formed and for hot forged nuts. When nuts are machined from bar stock, the nut must additionally be marked with the letter "B"
Grade Identification Markings

Specification

Material

Nominal Size, In.

Tempering Temp. °F

Proof Load Stress, ksi

Hardness Rockwell

Min

Max

 

ASTM A194 Grade 2H

Medium Carbon Steel, Quenched and Tempered

38078

1000

175

C24

C38
A194 Grade 2H Nuts Application :
ASTM A194 Grade 2H Nuts uses in Aircraft Exhaust Manifolds

SA194 Grade 2H Flat Washer uses in Off-Shore Oil Drilling Companies

ASME SA194 Grade 2H Nuts uses in Power Generation

A194 Gr 2H Nuts uses in Petrochemicals

A194 Grade 2H Heavy Hex Nuts uses in Gas Processing

SA194 Grade 2H Stud Nuts uses in Specialty Chemicals

ASTM A194 Grade 2H Fasteners uses in Pharmaceuticals

A194 Grade 2H Nuts uses in Pharmaceutical Equipment

ASTM A194 Nuts uses in Spiral Welded tube for burner pipes and flues

A194 Grade 2H Washer uses in Sea Water Equipment

SS A194 Hex Nuts uses in Heat Exchangers
We Supply ASTM A194 Gr.2H Hex Nuts in listed Cities in India:
Mumbai, Lucknow, Coimbatore, Imphal, Mysore, Ratlam, Delhi, Kanpur, Darjeeling, Jalandhar, Nagpur, Solapur, Kolkata, Allahabad, Dehradun, Jammu, Nashik, Srinagar, Chennai, Ahmedabad, Faridabad, Jamshedpur, Bhadravati, Chattisgarh, Durgapur, Asansol, Hospet, Bellary, Visakhapatnam, Nellore, Surat, Bangalore, Chandigarh, Ghaziabad, Jhansi, Patna, Siliguri, Hyderabad, Amritsar, Noida, Kochi (Cochin), Mangalore, Indore, Vadodra, Bhubaneswar, Bikaner, Bhavnagar, Tirupur, Ankleshwar, Warangal, Agartala, Thoothukudi, We offer fastest delivery in India including Thiruvanthapuram, Jaipur, Aizawl, Guwahati, Kozhikode, Raipur, Vishakhapatnam, Jabalpur, Bhopal, Gwalior, Ludhiana, Rajahmundry, Thane, Agra, Bhubaneshwar, Gurgaon, Madurai, Rajkot, Varanasi, Bhilai, Haridwar, Meerut, Ranchi, Ahmednagar, Akola, Amravati, Aurangabad, Baramati, Beed, Bhandara, Bhiwandi, Buldhana, Chandrapur, Chimur, Dahanu, Dhule, Dindori, Erandol, Gadchiroli, Hatkanangle, Hingoli, Ichalkaranji, Jalgaon, Jalna, Karad, Khed, Yavatmal, Kolaba, Kolhapur, Kopargaon, Latur, Malegaon, Mumbai, Nagpur, Nanded, Nandurbar, Nashik, Osmanabad, Pandharpur, Parbhani, Rajapur, Ramtek, Ratnagiri, Raver, Sangli, Satara, Shirdi, Shirur, Solapur, Thane, Wardha, Washim, Andhra Pradesh, Jammu and Kashmir, Nagaland, Uttarakhand, Haryana, Lakshadweep, Arunachal Pradesh, Jharkhand, Odisha, West Bengal, Himachal Pradesh, Assam, Karnataka, Punjab, Andaman and Nicobar Islands, Puducherry, Bihar, Kerala, Rajasthan, Chandigarh, Meghalaya, Chhattisgarh, Madhya Pradesh, Sikkim, Dadar and Nagar Haveli, Mizoram, Goa, Maharashtra, Tamil Nadu, Daman and Diu, Tripura, Gujarat, Manipur, Telangana, Delhi, Uttar Pradesh in India, Faridabad, Fatehpur, Gandhidham, Gandhinagar, Ghaziabad, Greater Hyderabad, Greater Mumbai, Greater Warangal, Gurgaon, Guwahati, Gwalior, Haldia, Howrah, Hubballi-Dharwad, Hyderabad, Imphal, Indore, Jabalpur, Jaipur, Jalandhar, Jammu, Jamnagar, Jamshedpur, Jhansi, Jodhpur, Junagadh, Kakinada, Kalyan-Dombivali, Kanpur, Karnal, Kavaratti, Kochi, Kohima, Kolhapur, Kolkata, Kota, Lucknow, Ludhiana, Madurai, Mehsana, Mangalore, Mangaluru, Mira-Bhayandar, Moradabad, Morbi, Mumbai, Muzaffarpur, Mysore, Nagpur, Namchi, Nasik, Navi Mumbai, NDMC, Nellore, New Delhi, New Town Kolkata, Noida, Oulgaret, Pali, Panaji, Panipat, Panvel, Pasighat, Patiala, Patna, Pimpri-Chinchwad, Port Blair, Puducherry, Pune, Raipur, Rajkot, Ranchi, Raurkela, Industrial Township, Rourkela, Sagar, Salem, Satna, Secunderabad, Shaharanpur, Shillong, Siliguri, Silvassa, Solapur, Srinagar, Surat, Thane, Thanjavur, Thiruvananthapuram, Thoothukudi, Thrissur, Tiruchirapalli, Tirunelveli, Tirupur, Tumkur, Udaipur, Ujjain, Ulhasnagar, Vadodara, Vapi, Varanasi, Vasai-Virar, Vellore, Vishakhapatnam, Agartala, Agra, Agra Rampur, Ahmedabad, Aizawl, Ajmer, Aligarh, Allahabad, Alwar, Amaravati, Ambala, Ambattur, Ambernath, Amravati, Amritsar, Aurangabad, Bangalore, Bareilly, Belgaum, Bhagalpur, Bhavnagar, Bhilai, Bhiwandi, Bhopal, Bhubaneswar, Bidhannagar, Biharsharif, Bikaner, Bilaspur, Bokaro, Chandigarh, Chennai, Chittoor, Coimbatore, Cuttack, Dahod, Davanegere, Dehradun, Delhi, Dhanbad, Dharamsala, Dindigul, Diu, Durgapur.
We Supply and Export ASTM A194 Gr.2H Hex Nuts in the Listed Countries:
United States of America, Malaysia, UAE, Indonesia, Saudi Arabia, Iran, Qatar, India, China, United Kingdom, Singapore, Canada, Thailand, South Korea, Turkey, Philippines, Egypt, Germany, Italy, Japan, Russia, Vietnam, Australia, South Africa, Portugal, Morocco, Costa Rica, Kazakhstan, Netherlands, Mexico, Brazil, France, Spain, Taiwan, Nigeria, Bangladesh, Kuwait, Iraq, Ukraine, Poland, Jordan, Romania, Oman, Hong Kong, Venezuela, Colombia, Norway, Chile, Trinidad & Tobago, Greece, Czechia, Belgium, Sri Lanka, Cyprus, Angola, Myanmar (Burma), United Kingdom, Canada, South Korea, Thailand, Netherlands, Spain, Turkey, Australia, Mexico, Pakistan, Vietnam, Brazil, Philippines, France, Taiwan, Poland, South Africa, Russia, Nigeria, Kuwait, Czechia, Norway, Romania, Egypt, Oman, Sweden, Belgium, Hong Kong, Israel, Colombia, Switzerland, Denmark, Finland, Argentina, Venezuela, Peru, Ukraine, Chile, Bangladesh, Portugal, Ireland, Austria, Algeria, Greece, Iraq, New Zealand, Slovakia, Hungary, Kazakhstan, Slovenia, Lithuania, Serbia, Sri Lanka, Bahrain, Bulgaria, Morocco, Tunisia, Croatia, Jordan, Ecuador, Trinidad & Tobago, Estonia, Azerbaijan, Ghana, Lebanon, Cyprus, Dominican Republic, Latvia, Libya, Costa Rica, Cambodia, Macedonia (FYROM), Belarus, Jamaica, Palestine, Turkmenistan, Afghanistan, Bahrain, Costa Rica, Egypt, Iraq, Jordan, South Korea, Kazakhstan, Sri Lanka, Lithuania, Norway, Oman, Philippines, Poland, Qatar, Russia, Vietnam, South Africa, Nigeria, Mexico, Turkey, Hungary, Algeria, Angola, Argentina, Austria, Azerbaijan, Bangladesh, Belarus, Belgium, Bhutan, Bolivia, Bulgaria, Croatia, Czech Republic, Estonia, Finland, Greece, Italy, Japan, Libya, Romania, Thailand, Trinidad & Tobago,Tunisia, Ukraine, Yemen, Hong Kong, Gabon, China, Portugal, Switzerland, New Zealand, Sweden, Slovakia, Kenya, Lebanon, Morocco, Mongolia, India, United States, United Arab Emirates, Canada, Pakistan, Peru, Chile, Spain, France, United Kingdom, Indonesia, Israel, Iran, Kuwait, Mexico, Malaysia, Nigeria, Serbia, Singapore, Taiwan, Chile, Venezuela, Ecuador, Saudi Arabia, Netherlands, Brazil, Colombia, Ghana, Iran, Denmark, Poland, Australia.
We supply ASTM A194 Grade 2H Fasteners with zero error rate & 100% -Liefertreue, ASTM A194 Grade 2H Nuts, ASTM A194 Grade 2H Bolts, ASTM A194 Grade 2H screws, ASTM A194 Grade 2H washers, ASTM A194 Grade 2H Bolts and Screws, ASTM A194 Grade 2H Heavy Hex Bolts, ASTM A194 Grade 2H Finished Hex Bolts, ASTM A194 Grade 2H Oval Neck Track Bolts, ASTM A194 Grade 2H Bent Bolts, ASTM A194 Grade 2H Hex Cap Screws, ASTM A194 Grade 2H Heavy Hex Screws, ASTM A194 Grade 2H 12-Point Screws, ASTM A194 Grade 2H Socket Head Cap Screws, ASTM A194 Grade 2H Socket Head Shoulder Screws, ASTM A194 Grade 2H Socket Set Screws, ASTM A194 Grade 2H Flat Countersunk Head Cap Screws, ASTM A194 Grade 2H Hex Nuts, ASTM A194 Grade 2H Hex Jam Nuts, ASTM A194 Grade 2H Hex Slotted Nuts, ASTM A194 Grade 2H Heavy Hex Nuts, ASTM A194 Grade 2H Heavy Hex Jam Nuts, ASTM A194 Grade 2H Heavy Hex Slotted Nuts, ASTM A194 Grade 2H Heavy Square Nuts, ASTM A194 Grade 2H Hex Coupling Nuts, ASTM A194 Grade 2H Cap Nuts, ASTM A194 Grade 2H 12-Point Nuts, ASTM A194 Grade 2H Flat Washers, ASTM A194 Grade 2H Lock Washers, ASTM A194 Grade 2H Beveled Washers, ASTM A194 Grade 2H Threaded Rod, ASTM A194 Grade 2H Stud Bolts, ASTM A194 Grade 2H Continuous Thread Studs, ASTM A194 Grade 2H Double End Studs, ASTM A194 Grade 2H Tap End Studs, ASTM A194 Grade 2H Threaded Taper Pins, ASTM A194 Grade 2H Dowel Pins distributor, stockholder and supplier in Malaysia, UAE, Iran, Singapore & Saudi Arabia
ASTM A194 Grade 2H Fasteners Manufacturer & Supplier |Manufacturing high class ASTM A194 Grade 2H Fasteners in India |Buy ASTM A194 Grade 2H Fasteners, ASTM A194 Grade 2H Nuts, ASTM A194 Grade 2H Bolts, ASTM A194 Grade 2H Screws, ASTM A194 Grade 2H washers for perfect connection & critical applications, excellent pricing and extensive size range of ASTM A194 Grade 2H Fasteners