ASTM A516 Grade 60 (NACE + HIC) Carbon Steel Plates Stockist, Supplier & Exporter in Mumbai, Maharashtra, India. Pressure Vessels Plate, Boiler Plate Suppliers Mumbai
ASME SA516 GR. 60 (NACE + HIC) Resistant Steel Plates, CS Plates, Boiler Quality Plates Stockist & Suppliers.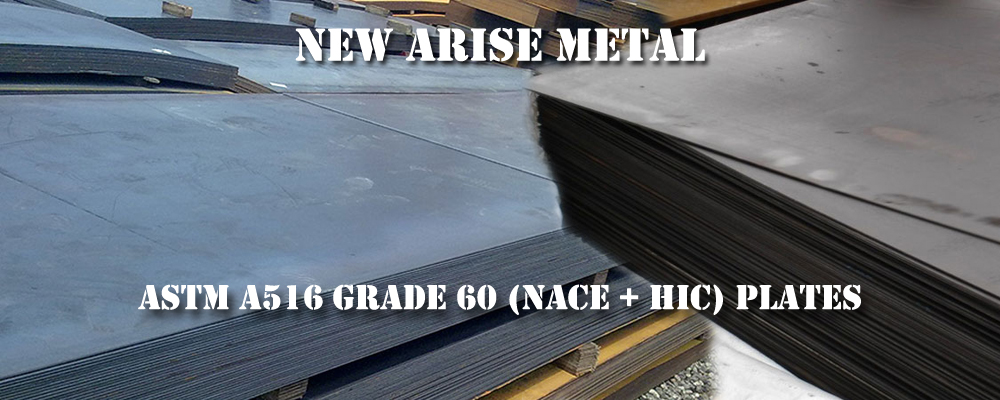 ASTM A516 GRADE 60 PLATES (NACE + HIC) / ASME SA516 GRADE 60 PLATES (NACE + HIC)
ASTM A516 GRADE 60 (NACE + HIC) Plates - a brief description of it
Are you looking for the quality of plates that are manufactured with both NACE and HIC standards? If yes, then it is best to buy ASTM A516 GR. 60 (NACE + HIC) plates. But, before you buy it, it is important for you to know about NACE and HIC standards. National Association of corrosion engineers or NACE is a standard in which different industrial products are manufactured. Plates that are manufactured using NACE and HIC standards considered best. These plates are widely used in boilermakers and fabricators when there is a big risk of hydrogen induced cracking.
Well, it is important to note that this ASTM A516 GR.60 grade plate suit best for pressure equipment and vessels where the H2S corrosion is high and can create problems. There are several leading manufacturers available all over the world, manufacturing best quality of plates. These plates are known best for their features like durability, ductility, resistance to corrosion, pitting and cracking and tensile strength. Moreover, the raw material used for manufacturing these plates is well tested and inspected by quality experts and inspection agencies. Furthermore, these plates are even available in different grades such as ASTM A516 GR.60, 55, 70 and 80.
Standard Specification for Carbon Steel, Pressure Vessel Plates, for Moderate- and Lower-Temperature Service.
They use to advance and modern technology to manufacture these plates. Talking about its quality these plates are manufactured in accordance with the international and national quality standard. The size of these plates varies as per customers demand and requirement whereas its normal size varies from 6 mm to 105 mm; its width varies from 2 Meter, 2.5 Meter and 3 Meter whereas, the length of these plates ranges up to 12 Meter. These plates are available in different shapes, sizes, and forms. The base of plates is hot dipped in zinc and coated with steel sheet or cold rolled with steel sheet. The manufacturers offer these plates in accordance with customer's requirement that is controlled rolled, annealing, normalizing, tempering or hot rolled forms.
There are several stages of manufacturing that is cutting, forming, machining, grinding and testing which is done under supervision and guidance of quality experts. These plates are widely used in industries and applications like engineer's machinery, boiler, and large structure steel, building construction and high-pressure containers. Before these plates are delivered to any industry they are tested and inspected. Few additional tests are done such as flattening test, Charpy V-Notch Impact Test, High-Temperature Tension Test, ultrasonic test and third-party inspection.
Certification and Packaging :
At the time of delivery, customers are offered with certifications like mill test certificate, radiography test certificate, IBR test certificate and third-party inspection and NACE and HIC test certificate. At last, when these ASTM A516 GR. 60 (NACE + HIC) plates are ready for the delivery they are packed in pallets, wooden cases or as per customers requirement. Furthermore, outside the packaging, the complete description of plates is given including size, length, thickness, and specification. These are the best quality of plates that are known for their strength, hardness, durability, and resistance to corrosion features. You can buy thee plates from a reputed and reliable vendor.
ASME SA516 GR. 60 HIC Plate, SA516 Grade 60 NACE Plate Distributors, A516 Gr 60 NACE and HIC Boiler Quality Steel Plate, Hot Rolled Steel ASTM A516 Gr 60 NACE + HIC Plates, ASTM A516 GR. 60 HIC Nace Tested Plates Stockholders in Mumbai, Maharashtra, India.
ASTM A516 Gr 60 Carbon Steel (NACE + HIC) Plate Specification :
Width:1000mm-4500mm
Thickness:5mm-150mm
Length:3000mm-18000mm
Supply Condition: As Rolled, Normalized Rolling, Furnace Normalizing, Vacuum Degassing, Simulated Post-Weld Heat Treatment or as per customer requirement.
Impact tested :-52° C
Tempering:Notch toughness can be improved by quenched cooling from hot rolling or normalizing by the supplier. If such a faster cooling rate is agreed upon between purchaser and supplier then the steel is also to be tempered at 1200 F.
Applications:Used for weld fabrication of pressure vessels that require improved notch toughness for lower than ambient temperature service.
Process of Manufacturing :Hot-Rolled (HR)
(NACE + HIC) ASTM A516 Gr.60 Steel Plate Equivalent Standard :
| | | | |
| --- | --- | --- | --- |
| British Standard | European Norm | ASTM/ASME | DIN |
| BS1501-161-430A | EN10028 P265GH | A/SA516 - Grade 60 | DIN 17155 HII |
ASTM A516 Grade 60 (NACE + HIC) Plate Chemical Composition :
| | | | | | | | | | | | | | |
| --- | --- | --- | --- | --- | --- | --- | --- | --- | --- | --- | --- | --- | --- |
| C | Si | Mn | P | S | Al | Cr | Cu | Ni | Mo | Nb | Ti | V | C.E. |
| 0.2 | 0.4 | 0.95/1.50 | 0.01 | 0.002 | 0.02 | 0.3 | 0.3 | 0.3 | 0.08 | 0.01 | 0.03 | 0.02 | 0.420(max) |
SA516 Grade 60 HIC + NACE Plate Mechanical Properties :
| | | | |
| --- | --- | --- | --- |
| Tensile strength (ksi) | Yield strength (ksi) | Elongation min, % 200 mm (8 in) | Elongation min, % 50 mm (2 in) |
| 415-550 (60-80) | 250 (32) | 21 | 25 |
NACE and HIC Tested ASTM A516 GR. 60 Steel Plate Makes :
| | | | |
| --- | --- | --- | --- |
|   |   |   |   |
|  Essar Make A516 GR.60 (NACE + HIC) Steel Plate |  Jindal Steel Make ASTM A516 GR. 60 (NACE + HIC) Plate |  Welspun Make (NACE + HIC) ASTM A516 Grade 60 Plate |  SAIL Make ASTM A516 Grade 60 NACE HIC Plate |
|   |   |   |   |
|  Posco Make ASME SA516 Grade 60 (NACE + HIC) Steel Plate |  ArcelorMittal Make ASTM A516 GR. 60 (NACE + HIC) Plate |  Dillinger Steel Make ASTM A516 GR. 60 (NACE + HIC) Plate |   |
Supply and Exporter of ASTM A516 GR.60 NACE + HIC Plates in Cities like
Kanpur, Brisbane, Busan, Nagpur, Manama, Colombo, Montreal, Thane, Geoje-si, Milan, Vung Tau, Chiyoda, Al Jubail, Karachi, New Delhi, Pimpri-Chinchwad, Bengaluru, Gurgaon, Algiers, Calgary, Houston, Granada, New York, Jaipur, Cairo, Tehran, Kuwait City, Al Khobar, Courbevoie, Coimbatore, Mexico City, Rio de Janeiro, Lagos, Los Angeles, Ulsan, Secunderabad, Thiruvananthapuram, Mumbai, Hong Kong, Bogota, Singapore, Hyderabad, Visakhapatnam, Aberdeen, Dubai, Madrid, Moscow, Ho Chi Minh City, Sydney, Kuala Lumpur, Petaling Jaya, Rajkot, Noida, Howrah, Kolkata, Pune, Toronto, London, Indore, Bangkok, Ludhiana, Perth, Jamshedpur, Hanoi, Abu Dhabi, Ernakulam, Gimhae-si, Baroda, Seoul, Faridabad, Riyadh, Edmonton, Chennai, La Victoria, Surat, Dallas, Port-of-Spain, Ahmedabad, Doha, Santiago, Ranchi, Ankara, Jakarta, Caracas, Jeddah, Dammam, Istanbul, Lahore, Melbourne, Navi Mumbai, Ahvaz, Atyrau, Bhopal, Nashik, Chandigarh, Haryana, Sharjah, Vadodara, Muscat.
Supply and Exporter of ASTM A516 GR. 60 NACE HIC Plates in Countries like
Iran, United Arab Emirates, Poland, Ireland, Slovakia, Azerbaijan, France, South Africa, Bhutan, Germany, Russia, Hong Kong, Israel, Malaysia, Sweden, Finland, Italy, Switzerland, Vietnam, South Korea, Bangladesh, Costa Rica, Venezuela, Ecuador, Thailand, Angola, Gambia, Philippines, United States, Afghanistan, Nepal, Portugal, India, Croatia, Nigeria, Denmark, Chile, Norway, Iran, Mexico, Namibia, Zimbabwe, Serbia, Chile, Iraq, Algeria, China, Colombia, Egypt, United Kingdom, Pakistan, Gabon, Argentina, Kazakhstan, Belarus, Spain, Kenya, Bulgaria, Bolivia, Turkey, Bahrain, Peru, Nigeria, Hungary, Romania, Ukraine, Sri Lanka, Qatar, New Zealand, Greece, Oman, Morocco, Macau, Lithuania, Tibet, Brazil, Mexico, Austria, Lebanon, Mongolia, Trinidad & Tobago,Tunisia, Kuwait, Libya, Australia, Indonesia, Puerto Rico, Estonia, Singapore, Taiwan, Belgium, Jordan, Yemen, Netherlands, Japan, Canada, Poland, Saudi Arabia, Ghana, Czech Republic.