ASME SA516 Grade 60 Carbon Steel Plates Stockist, Supplier & Exporter in Mumbai, Maharashtra, India. Pressure Vessels Plate, Boiler Plate Suppliers Mumbai
ASTM A516 / ASME SA516 Grade 60 Resistant Steel Plates, CS Plates, Boiler Quality Plates Stockist & Suppliers.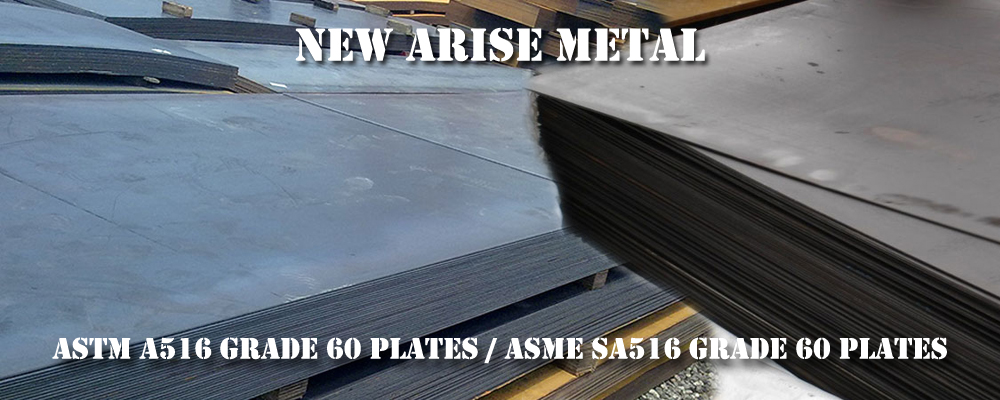 ASTM A516 GRADE 60 PLATES / ASME SA516 GRADE 60 PLATES
Are you in search of best high quality plates that you can use for your industrial applications easily and for a long time? If yes, then your search ends here as ASTM A516 Grade 60 Plates / ASME SA516 Grade 60 Plates are the right option for you. These plates are considered best and ideal for pressure vessels and tank fabrication where the improved toughness is required. Well, if we talk about its specification, these plates are manufactured in accordance with the ASTM A 516 GR. 60 Plate and supplied to every industry in rolled form and the size of plate varies from 40mm and the thickness is often available in normalized condition.
ASTM A516 Gr. 60 is a boiler plate to ASTM A516 / A516M. This is the ASME/ASTM standard for pressure vessel steel plate for use at low and medium temperatures; typically where improved Charpy V-notch testing is important. Simply put these plates are remaining tough when holding low temperature fluids or gases under pressure.
This grade of plates is considered best due to its high tensile strength, uniform surface, durability, and temperature resistance. There are several manufacturers who manufacture these plates and offer them to their reliable esteemed clients and customers at a reasonable rate. Furthermore, these plates are well tested and inspected by quality expertise and inspection agencies who in turn offer test certificates. These plates are tested in accordance with the international and national standard and specification with dual certified NACE HIC tests. These plates can easily be used in different temperatures and environment no matter whether it's high or low.
At New Arise Metal we stock large numbers of ASTM A516 Grade 60 steel plates to ensure that we always have high availability of plates to meet customers' requirements.
ASTM A516 Grade 60 / ASME SA 516 Grade 60 :
ASTM A516 Grade 60 is a boiler and pressure vessel quality steel which is ideal for moderate and lower temperature service. The material is used extensively by industrial boiler and pressure vessel fabricators who provide manufacturing support to the oil, gas and petrochemical industry. The steel has good weldability and excellent notch toughness.
At New Arise Metal, we keep a healthy stock of ASTM A516 Grade 60 carbon steel plates. These plates come with mill certification in compliance with EN10204 3.1 or EN10204 3.2 and are hard stamped and fully traceable.
ASTM A516 GRADE 60 PLATES EX-STOCK :
The main features of our ASME A516 grade 60 plates are
Large stock

Thickness up to 150 mm

Width up to 3.5 meters

Length up to 12 meters

Western European Steel mills – Thyssen, Dillinger, Clabecq, Etc.

1 or 3.1B MTC to EN10204

Plates are available normalized.
Uses Of ASTM A516 Grade 60 Boiler Plates :
A significant quantity of ASTM A516 Grade 60 boiler quality plate is used by pressure vessel manufacturers and fabricators making process equipment for the oil and gas industry. Some is also used for skid mounted pressure vessels and modules on production platforms and much is used in refineries and downstream processes.
Specification for ASTM A516 GR. 60 Plates :
Well, talking about Standard Specification for Pressure Vessel Plates, Carbon Steel, for Moderate and Lower Temperature Service, these plates are manufactured in accordance with the ASTM A516 GR.60 grade. The thickness of these plates is approx 8mm to 100mm; whereas plate's width varies from 1500mm to 3500mm. You can get these plates in varied shapes and sizes as per your requirement and demand from a reliable vendor. The length of this grade plates varies from 3000mm to 8000mm and plate surface is embossed, hairline, mirror or sand plain. These plates are even available with hot rolled finishing. ASTM A516 Grade 60 IBR and Non-IBR Oblique Form.
Tests and certifications :
Have you ever noticed how these plates sustain their quality and durability for a long time? If not, then it is important to note that these plates come across various tests and inspections that help the manufacturer to check the quality of plates. These tests are Flattening Test, Hardness Test, Charpy V-Notch Impact Test, High –Temperature Tension Test, IBR Test, Ultrasonic Test and more. With it, manufacturers offer various certificates like hardness test certificate and third-party inspection report.
ASTM A516 Grade 60 Carbon Steel Plate Specifications :
Width:1000mm-4500mm
Thickness:5mm-150mm
Length:3000mm-18000mm
Supply Condition:As Rolled, Normalized Rolling, Furnace Normalizing, Vacuum Degassing, Simulated Post-Weld Heat Treatment or as per customer requirement.
Impact tested :-52° C
Tempering:Notch toughness can be improved by quenched cooling from hot rolling or normalizing by the supplier. If such a faster cooling rate is agreed upon between purchaser and supplier then the steel is also to be tempered at 1200 F.
Applications:Used for weld fabrication of pressure vessels that require improved notch toughness for lower than ambient temperature service.
Process of Manufacturing :Hot-Rolled (HR)
ASTM A516 Grade 60 / ASME SA516 Grade 60 Equivalent Grade :
Normally the following steel grades are considered equivalent to ASTM A516 GR. 60 /ASME SA516 GR. 60. In the US it is also known as PVQ516
P265GH to EN10028-3

BS1501 161 430 A/B

BS1501 151 400 A/B

DIN 17155 HII

NF A42 CP

NF A42 AP

SS1430-01

SS1431-01

SS1432-01
ASTM A516 Gr.60 Plate Equivalent Standard :
| | | | |
| --- | --- | --- | --- |
| British Standard | European Norm | ASTM/ASME | DIN |
| BS1501-161-430A | EN10028 P265GH | A/SA516 - Grade 60 | DIN 17155 HII |
Chemical Composition / Chemistry of ASTM A516 Grade 60 :
| | | | | | | | | | | | | |
| --- | --- | --- | --- | --- | --- | --- | --- | --- | --- | --- | --- | --- |
| C | Si | Mn | P | S | Al | Cr | Cu | Ni | Mo | Nb | Ti | V |
| 0.2 | 0.4 | 0.95/1.50 | 0.025 | 0.025 | 0.02 | 0.3 | 0.3 | 0.3 | 0.08 | 0.01 | 0.03 | 0.02 |
ASME SA516 Grade 60 Plate Mechanical Properties :
| | | |
| --- | --- | --- |
| Tensile strength | Yield strength | Elongation min, % |
| 415-550 Mpa | 250 Mpa | 21 |
ASTM A516 Grade 60 Steel Plate Makes :
| | | | |
| --- | --- | --- | --- |
| | | | |
| Essar Make A516 GR.60 Carbon Steel Plate | Jindal Steel Make ASTM A516 GR. 60 Plate | Welspun Make ASTM A516 Grade 60 Plate | SAIL Make ASTM A516 Grade 60 Plate |
| | | |   |
| Posco Make ASTM A516 Gr.60 Plate | ArcelorMittal Make ASTM A516 Gr.60 Plate | Dillinger Steel Make ASTM A516 Gr.60 Plate |   |
We keep the following steel grade in stock:
SA 516 Gr. 60 acc. to ASME/ A 516 Gr. 60 acc. to ASTM
SA 516 Gr. 70 acc. to ASME/ A 516 Gr. 70 acc. to ASTM