Stockist, Suppliers & Exporters of Aluminium Alloys 7075 T651 Sheets & Plates
7075-T651 Aluminium Sheets & Plates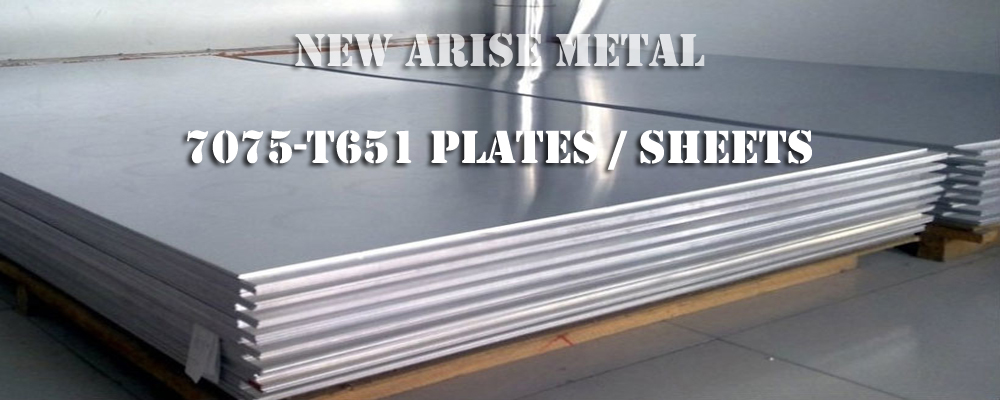 Aluminum 7075-T651 Plates & Sheets
7075 Aluminum Plate and Sheet, High Grade 7075 Aluminum
Aluminum Alloy 7075, which was initially developed entirely in secret and used in the production of aircraft for the Imperial Japanese Navy during WWII, has remained the mainstay 7XXX series alloy for aerospace and aircraft industries since its introduction into the United States market by Alcoa in 1943.
The main alloying element in 7075 is zinc. 7075 was the first Al-Zn-Mg-Cu high-strength alloy that utilized the addition of chromium as an alloying element, resulting in good stress-corrosion cracking resistance for sheet products. Although 7075 Aluminum has no weldability, a low level of corrosion resistance and only offers average performance this alloy offers considerable fatigue strength. With a high strength-to-density ratio, 7075 alloys are often used in applications such as rock climbing equipment, hang glider airframes, and military rifles. Not surprisingly, 7075 aluminum is still considered the go-to alloy for the aircraft and aerospace industries today.
If you are looking for 7075 T651 aluminum we are here for you. With more than twenty years of successful metals distribution under our belt, the aluminum experts at New Arise Metal have acquired a wealth of knowledge regarding the properties of aluminum and truly understand how aluminum will perform when used in a wide range of industries. We are the preferred 7075 aluminum plate suppliers for a number of aircraft and aerospace companies, as well as providing 7075 T6 aluminum to companies in the engineering, energy, automotive and construction industries. No matter what the nature of your project, we have the 7075 T651 Aluminum Plate and Sheet for sale that you need.
7075 aluminum is well known for its fatigue resistance. An economical choice for applications where frequent movement, pressure changes or other stresses are likely to be a regular feature, the 7075 aluminum alloy is a preferred choice for everything from bicycle parts to firearms. 7075 aluminium alloy is an aluminium alloy, with zinc as the primary alloying element. It is strong, with strength comparable to many steels, and has good fatigue strength and average machinability. It has lower resistance to corrosion than many other aluminium alloys, but has significantly better corrosion resistance than the 2000 alloys. Its relatively high cost limits its use.
7075 aluminium alloy's composition roughly includes 5.6–6.1% zinc, 2.1–2.5% magnesium, 1.2–1.6% copper, and less than a half percent of silicon, iron, manganese, titanium, chromium, and other metals. It is produced in many tempers, some of which are 7075-0, 7075-T6, 7075-T651.
General 7075 characteristics and uses (from Alcoa): Very high strength material used for highly stressed structural parts. The T7351 temper offers improved stress-corrosion cracking resistance.
7075-T651 aluminum is 7075 aluminum in the T651 temper. To achieve this temper, the metal is solution heat-treated, stress relieved, then artificially aged. The stress relief is accomplished by stretching the metal by an amount that depends on the type of standard wrought product being made (sheet, plate, bar, or forging).
Aluminum 7075 is the major alloy in 7000 Series and Zinc is the major alloying element in this series. Aluminum 7075 possesses high static strength and is used in airframe structures and for highly stressed parts. Aluminum 7075 is available in several types of tempers such as T6, T651, T73, T7351 and T76.
T6 temper has the highest strength but lowest toughness and resistance to stress-corrosion cracking. Since toughness decreases with a decrease in temperature, the T6 temper is not generally recommended for cryogenic applications. The T73 temper provides much improved stress-corrosion resistance over T6 temper with a decrease in strength. The T76 temper provides improved exfoliation resistance and limited stress corrosion resistance over T6 temper with some decrease in strength.
New Arise Metal is a national distributor of 7075-T651 aluminum plate. One of the strongest of the aluminum alloys, 7075 aluminum plate provides great performance and superior corrosion resistance for our customers.
Zinc is the primary alloying element of 7075 with 1 to 8 percent of the material composed of zinc. It is precipitation hardened to strength levels comparable to steel. With 7075's T651 temper, it has been solution heat treated followed by a minimal stretching to reduce stresses in the material. The material has also been artificially aged to allow the alloying elements to precipitate out of the material to give it immediate maximum strength.
7075-T651 possesses good fatigue strength, fair machinability, resistance welding and corrosion resistance ratings. This makes it appropriate for use in highly stressed components.
7075 ALUMINUM PLATES and SHEETS
Alloy 7075 aluminum plates are the outstanding member of the 7xxx series and remains the baseline among the highest strength alloys available. Zinc is the primary alloying element giving it strength comparable to steel. Temper T651 possesses good fatigue strength, fair machinability, resistance welding and corrosion resistance ratings. Alloy 7075 in temper T7x51 has superior stress corrosion resistance and replaces the 2xxx alloy in the most critical applications. It is widely used by the aircraft industry with the typical specifications of ASTM B209, AMS-QQ-A-250/4, as well as many end users requirements.
Aluminum Plate 7075
This aluminum plate is made of one of the strongest of the aluminum alloys. Its use parallels that of 2024, with 7075 selected when higher mechanical properties are desired. 7075 aluminum is an aluminum-zinc alloy with 1%-8% zinc in addition to small amounts of magnesium and small quantities of copper and chromium. This alloy is precipitation hardened to very high strength levels. Alloy 7075 is used in airframe structures and other highly stressed components.
7075-T651 Aluminum Plate
Our 7075 plate has T651 temper, indicating it has been solution heat treated followed by a minimal stretching to reduce stresses in the material. The material was then artificially aged to allow the alloying elements to precipitate out of the material, to give immediate maximum strength.
Mechanical Properties :
7075-T651
T651 temper 7075 has an ultimate tensile strength of 570 MPa (83,000 psi) and yield strength of 500 MPa (73,000 psi). It has a failure elongation of 3–9%. These properties can change depending on the form of material used. Thicker plate may exhibit lower strengths and elongation than the numbers listed above.
Trade Names
7075 has been sold under various trade names including Zicral, Ergal, and Fortal Constructal.
Some 7000 series alloys sold under brand names for making molds include Alumec 79, Alumec 89, Contal, Certal, Alumould, and Hokotol.
Applications of Aluminium 7075 T651:
Air frame structures

Highly stressed aircraft parts

Aircraft fittings

Gears and shafts

Fuse parts

Meter shafts and gears

Missile parts

Regulating valve parts

Worm gears

Keys

Aircraft

Aerospace

Defense applications

Bike frames

All terrain vehicle (ATV) sprockets
7075 Aluminum Applications :
In terms of strength, 7075 Aluminum is near the top of the list among aluminum alloys manufactured for the needs of consumer and industrial markets. Among other 7XXX alloys, alloy 7075 exists as a standard with a solid mix of properties suitable for aircraft and aerospace applications. In particular, this alloy utilized in various forms, including as 7075 aluminum bar, is well-suited for use in parts that endure high stress levels. The strength properties of alloy 7075 are beneficial for the manufacture of items such as aircraft structures, military grade rifles, bicycle parts and equipment, and plastic industry molds.
7075 T651 Aluminum :
An aluminum alloy best suited for aerospace and aviation applications is 7075 T651. This tempered alloy has a high tensile strength which makes it particularly applicable for certain high-strength applications.
Sizes Available and Specs :
At New Arise Metal, we stock 7075 aluminum in thicknesses ranging from 25 mm and up through 100 mm thicknesses. All of our 7075 T651 aluminum plate meets ASTM B209, QQA 250/12, and AMS 4045 specifications. All pieces of aluminum supplied to you by New Arise Metal is certified and fully traceable back to the master plate. Please ask us about specific plates and compliance issues with any specialty aircraft or specific industry specifications.
| | |
| --- | --- |
| Product Grade | Dimensions Size |
| 7075-T651 Aluminium Sheet / Plates | 25 mm X 1500 mm X 3000 mm |
| 7075-T651 Aluminium Sheet / Plates | 50 mm X 1500 mm X 3000 mm |
| 7075-T651 Aluminium Sheet / Plates | 75 mm X 1500 mm X 3000 mm |
| 7075-T651 Aluminium Sheet / Plates | 100 mm X 1500 mm X 3000 mm |
Key Words:
Aluminium 7075-T6; Aluminium 7075-T651, UNS A97075; ISO AlZn5.5MgCu, Aluminium 7075-T6 Sheet, Aluminium 7075-T651, AA7075-T6, 7000 Series Aluminum Alloy, Aluminum Alloy, Metal, Nonferrous Metal, Aluminium Sheet, Aluminium Plates, Alumnium Plate Stockist, Aluminium Plate Suppliers, Aluminium Plate Exporters, Aluminium Sheet Stockist, Aluminium Sheet Suppliers, Aluminium Sheets Exporters, Aluminum 7075 Plate Stock Holder, Aluminium Plate Stockist Mumbai, Aluminium Plate Stockist Maharashtra, Aluminium Plates Supplier Mumbai, Cheap rate of Aluminium Plate, Authorised Stockist of Hindalco, Aluminium 7075 T651 Plate Stockist, Aluminium 7075 T651 Plate Suppliers, Aluminium 7075 T651 Plate Exporters, 7075 T651 Plate, 7075 T651 Sheet,
Cities we Supply Aluminium 7075-T651 Plates & Sheets to:
Bogota, Haryana, Seoul, Jeddah, Vung Tau, Hong Kong, Gurgaon, Doha, Vadodara, Melbourne, Colombo, Istanbul, Chennai, Atyrau, Granada, La Victoria, Navi Mumbai, Santiago, Bhopal, London, Hanoi, Pune, Indore, Courbevoie, Ludhiana, Bangkok, Manama, Howrah, Faridabad, Petaling Jaya, Riyadh, Calgary, Pimpri-Chinchwad, Sharjah, Aberdeen, Jamshedpur, Houston, Lahore, Lagos, Visakhapatnam, Al Khobar, Bengaluru, Cairo, Ahmedabad, Ulsan, Los Angeles, Ranchi, Ho Chi Minh City, Chandigarh, Rio de Janeiro, Muscat, Perth, Tehran, Abu Dhabi, Geoje-si, Singapore, Jakarta, Al Jubail, Nagpur, Moscow, Dallas, Kuala Lumpur, Coimbatore, Thane, Milan, Algiers, Surat, Ankara, Sydney, Brisbane, Karachi, Edmonton, Ahvaz, Hyderabad, Thiruvananthapuram, Madrid, Dammam, Mexico City, Ernakulam, Dubai, New York, Noida, Secunderabad, Chiyoda, Rajkot, Kanpur, New Delhi, Kuwait City, Montreal, Mumbai, Caracas, Gimhae-si, Jaipur, Nashik, Busan, Baroda, Toronto, Port-of-Spain, Kolkata.
Countries we Export Aluminium 7075-T651 Plates & Sheets to :
Mexico, Portugal, Switzerland, Zimbabwe, Azerbaijan, Taiwan, Croatia, Bangladesh, Costa Rica, United Kingdom, Macau, Mexico, Austria, Germany, Egypt, Netherlands, Ghana, Saudi Arabia, United States, New Zealand, France, Tibet, Kazakhstan, Poland, Poland, Norway, Trinidad & Tobago,Tunisia, Greece, Ecuador, Turkey, Belarus, Ukraine, Slovakia, Russia, Estonia, Kenya, Libya, Puerto Rico, Argentina, Kuwait, South Korea, Singapore, Pakistan, Angola, Morocco, Thailand, Jordan, Bulgaria, Iraq, Iran, Hong Kong, Ireland, Brazil, Oman, Indonesia, Lithuania, Peru, Afghanistan, South Africa, Italy, Chile, Gabon, Chile, Philippines, Sri Lanka, Nigeria, Malaysia, Bahrain, Spain, Denmark, Finland, Canada, China, Bolivia, India, Venezuela, Serbia, Hungary, Iran, Yemen, Australia, Qatar, Romania, Gambia, Israel, Colombia, Japan, Nepal, Czech Republic, Lebanon, Belgium, Namibia, Sweden, Mongolia, Bhutan, Nigeria, Algeria, United Arab Emirates, Vietnam.
Other Grade also Available with us :
Aluminium Sheet 6061 T6, Aluminium Plate 6061 T6, Aluminium Sheets 5052-H32, Aluminium Plates 5052-H32