Aluminium Alloy 6061-T6 Sheets & Plates
6061-T6 Plates / Sheets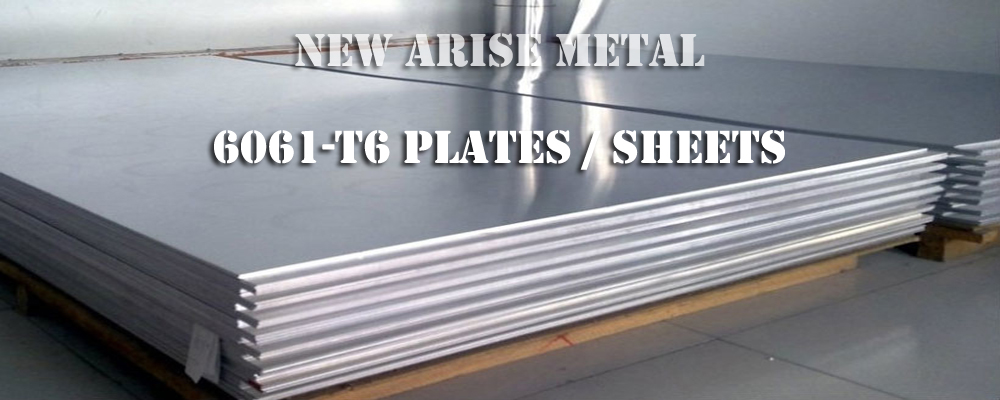 6061 Aluminium Alloy Sheet & Plate
Aluminium Alloy 6061 is a precipitation hardened Aluminum Alloy, containing Magnesium and Silicon as its major alloying elements. Originally called "Alloy 61S", it was developed in 1935. It has good mechanical properties, exhibits good weldability, and is very commonly extruded (second in popularity only to 6063). It is one of the most common alloys of aluminum for general purpose use. It is commonly available in pre-tempered grades such as 6061-O (annealed), tempered grades such as 6061-T6 (solutionized and artificially aged) and 6061-T651 (solutionized, stress-relieved stretched and artificially aged).
6061 Aluminum Sheet & Plates offers a combination of Higher Strength, Good Corrosion Resistance and Machinability making the 6061 grade the most widely used aluminum sheet and plate grade available for all types of fabrication projects. The general purpose 6061 Aluminum Sheet & Plate is heat treatable, resists cracking due to stress, and is easy to weld and machine, but limited on formability. 6061 Aluminum Sheet & Plate are ideal for structural framing, base plates, gussetts, aircraft, marine and automotive parts, etc.
General 6061 characteristics and uses: Excellent joining characteristics, good acceptance of applied coatings. Combines relatively high strength, good workability, and high resistance to corrosion; widely available.
Uses of 6061: Aircraft Fittings, Camera Lens Mounts, Couplings, Marines Fittings and Hardware, Electrical Fittings and Connectors, Decorative or Misc. Hardware, Hinge Pins, Magneto Parts, Brake Pistons, Hydraulic Pistons, Appliance Fittings, Valves and Valve Parts.
6061-T6 Aluminum Sheets & Plates
6061 is the least expensive and most versatile of the Heat Treatable Aluminum Alloys. It has most of the good qualities of aluminum. It offers a range of good mechanical properties and good corrosion resistance. It can be fabricated by most of the commonly used techniques. In the annealed condition it has good workability. In the T4 condition fairly severe forming operations may be accomplished. The full T6 properties may be obtained by artificial aging. It is welded by all methods and can be furnace brazed. It is available in the clad form ("Alclad") with a thin surface layer of high purity aluminum to improve both appearance and corrosion resistance. Applications: This grade is used for a wide variety of products and applications from truck bodies and frames to screw machine parts and structural components. 6061 is used where appearance and better corrosion resistance with good strength are required.
Alloy 6061 Plates, Coils and Sheets are the most versatile of the heat treatable aluminum alloys. Though less strong than most of the 2xxx and 7xxx alloys, 6061 aluminum provides an extensive range of mechanical properties and corrosion resistance and can be fabricated by many of the commonly used practices.  In the "O" temper or annealed condition, alloy 6061 has good formability.  In the T4 condition, fairly severe forming can be done; whereas, in the T6 condition, properties may be obtained by artificial aging.
Bare aluminum sheet has tensile strength: 42,000 psi, yield strength: 37,000 psi. This grade is used of a wide variety of products and applications from truck bodies and frames to screw machine parts and structural components.
Aluminum 6061-T6 Sheet & Plates is one of the most versatile of the aluminum products. It is a general purpose alloy containing magnesium and silicon. Of the heat-treated alloys it is very corrosion-resistant. It is lightweight, readily machined, and can be welded by common methods.
Specifications:
6061 Aluminium Sheet & Plate Temper 0, H32, H34, H38 as per ASTM B209, ASTM-B-209, EN573, and EN485 international standards. Aluminum Alloy 6061 O, T1, T4, T42, T4510, T4511, T51, T6, T62, T6510, or T6511. Back, UNS Number – UNS A96061, Specification – AMS-QQ-A-200/8
6061-O Aluminum Sheet: ASTM-B-209, AMS-4025
6061-T4 Aluminum Sheet: ASTM-B-209, AMS-4026
6061-T6 Aluminum Sheet: ASTM-B-209, AMS 4027
6061-T6, T651; ASTM B209; AMS-QQ-A-250/11
6061-T6, AMS-QQ-Q-250/11 AMS 4027
Characteristics:
Welding = Excellent
Machining / Grinding = Good
Bending / Forming = Poor
Wear Resistance = Good
Corrosion Resistance = Good
Finish:
Mill Finish, Not Polished, Smooth Surface
Mechanical Properties:
Tensile Strength = 45 ksi; Yield Point = 40 ksi
Elongation % in 2"= 12%
Modulus of Elasticity = 10 ksi
Shear Strength = 30 ksi; Fatigue Limit = 14%
Brinell Hardness = 95
The mechanical properties of 6061 depend greatly on the temper, or heat treatment, of the material.
6061 - Annealed 6061 (6061-O temper) has maximum tensile strength no more than 120 MPa (18,000 psi), and maximum yield strength no more than 55 MPa (8,000 psi). The material has elongation (stretch before ultimate failure) of 25–30%.
6061-T4 - T4 temper 6061 has an ultimate tensile strength of at least 210 MPa (30,000 psi) and yield strength of at least 110 MPa (16,000 psi). It has elongation of 16%.
6061-T6 - T6 temper 6061 has an ultimate tensile strength of at least 290 MPa (42,000 psi) and yield strength of at least 240 MPa (35,000 psi). More typical values are 310 MPa (45 ksi) and 270 MPa (39 ksi), respectively. In thicknesses of 6.35 mm (0.250 in) or less, it has elongation of 8% or more; in thicker sections, it has elongation of 10%. T651 temper has similar mechanical properties. The typical value for thermal conductivity for 6061-T6 at 25 °C (77 °F) is around 152 W/m K. A material data sheet defines the fatigue limit under cyclic load as 97 MPa (14,000 psi) for 500,000,000 completely reversed cycles using a standard RR Moore test machine and specimen. Note that aluminum does not exhibit a well defined "knee" on its S-n graph, so there is some debate as to how many cycles equates to "infinite life". Also note the actual value of fatigue limit for an application can be dramatically affected by the conventional de-rating factors of loading, gradient, and surface finish.
6061 Aluminum Sheet & Coil Applications:
Truck bodies and frames

Screw machine parts

Structural components
Chemical Composition Limits (WT%) :
| | |
| --- | --- |
| Silicon | 0.4-0.8 |
| Iron | 2.2-2.8 |
| Copper | 0.15-0.40 |
| Manganese | 0.1 |
| Magnesium | 0.45 |
| Chromium | 0.04-.35 |
| Zinc | 0.1 |
| Titanium | 0.15 |
| Others, each | 0.05 |
| Others, total | 0.15 |
| Balance, Aluminum |   |
Typical Mechanical Properties :
| | | | |
| --- | --- | --- | --- |
| Temper | Tensile Strength | Yield Strength | Elongation |
|   | KSI | KSI | % |
| O (annealed) | 22 | 12 | 42644 |
| T4 | 30 | 16 | 42644 |
| T6 | 42 | 35 | 43742 |
Uses of Aluminium Alloy 6061 Plates & Sheets :
6061 is commonly used for the following:
Construction of aircraft structures, such as wings and fuselages, more commonly in homebuilt aircraft than commercial or military aircraft. 2024 alloy is somewhat stronger, but 6061 is more easily worked and remains resistant to corrosion even when the surface is abraded, which is not the case for 2024, which is usually used with a thin Alclad coating for corrosion resistance.

Yacht construction, including small utility boats.

Automotive parts, such as the chassis of the Audi A8.

Some tactical flashlights

Aluminum cans for the packaging of food and beverages.

SCUBA tanks (post 1995)
6061-T6 is used for:
Bicycle frames and components

Many fly fishing reels

The Pioneer plaque was made of this alloy

The upper and lower receivers of many non mil-spec AR-15 rifle variants

Many aluminum docks and gangways are constructed with 6061-T6 extrusions, and welded into place

Material used in some ultra-high vacuum (UHV) chambers

Many parts for remote controlled model aircraft, notably helicopter rotor components

The secondary chambers and baffle systems in firearm sound suppressors (primarily pistol suppressors for reduced weight and improved mechanical functionality), while the primary expansion chambers usually require 17-4PH or 303 stainless steel or titanium
Features:
Excellent at resisting moisture and strong for its light weight.
Workable:
Welds well with the proper equipment. Easy to Drill, Machine, Shear and Form.
Uses :
Skinning Frames, Truck Beds, Tool Boxes, Trays, Drip Pans, Ornamental Work, Etc.
Welding :
6061 is highly weldable, for example using tungsten inert gas welding (TIG) or metal inert gas welding (MIG). Typically, after welding, the properties near the weld are those of 6061-T4, a loss of strength of around 40%. The material can be re-heat-treated to restore near -T6 temper for the whole piece. After welding, the material can naturally age and restore some of its strength as well. Most strength is recovered in the first few days to a few weeks. Nevertheless, the Aluminum Design Manual (Aluminum Association) recommends the design strength of the material adjacent to the weld to be taken as 165 MPa/24000 PSI without proper heat treatment after the welding. Typical filler material is 4043 or 5356.
Extrusions :
6061 is an alloy used in the production of extrusions—long constant–cross-section structural shapes produced by pushing metal through a shaped die.
Forgings :
6061 is an alloy that is suitable for hot forging. The billet is heated through an induction furnace and forged using a closed die process. This particular alloy is suitable for open die forgings. Automotive parts, ATV parts, and industrial parts are just some of the uses as a forging. Aluminum 6061 can be forged into flat or round bars, rings, blocks, discs and blanks, hollows, and spindles. 6061 can be forged into special and custom shapes.
We New Arise Metal stocks all 3 tempers, "O", T4 and T6, of 6061 sheet products in thicknesses from 5 mm to 100 mm and in widths 1250 mm – 1500 mm.  All are certified to ASTM B209 and the appropriate AMS specification per temper.
The aluminum 6061 alloy is strong, easily machined, and weldable. Aluminum 6061 alloys are doubled the strength of aluminum 6063 alloys. Aluminum 6061 has an ultimate tensile strength of at least 42,000 psi (290 MPa) and yield strength of at least 35,000 psi (241 MPa). In thicknesses of 0.250 inch (6.35 mm) or less, it has elongation of 8% or more; in thicker sections, it has elongation of 10%. T651 temper has similar mechanical properties. The famous Pioneer plaque was made of this particular alloy. Order 6061 Aluminum Sheets in 6061 Aluminum in small quantities and no minimums of all Aluminum 6061 at New Arise Metal.
Cities we Supply our Aluminium Alloy 6061-T6 Sheets, Plates, and Coils to:
Bogota, Haryana, Seoul, Jeddah, Vung Tau, Hong Kong, Gurgaon, Doha, Vadodara, Melbourne, Colombo, Istanbul, Chennai, Atyrau, Granada, La Victoria, Navi Mumbai, Santiago, Bhopal, London, Hanoi, Pune, Indore, Courbevoie, Ludhiana, Bangkok, Manama, Howrah, Faridabad, Petaling Jaya, Riyadh, Calgary, Pimpri-Chinchwad, Sharjah, Aberdeen, Jamshedpur, Houston, Lahore, Lagos, Visakhapatnam, Al Khobar, Bengaluru, Cairo, Ahmedabad, Ulsan, Los Angeles, Ranchi, Ho Chi Minh City, Chandigarh, Rio de Janeiro, Muscat, Perth, Tehran, Abu Dhabi, Geoje-si, Singapore, Jakarta, Al Jubail, Nagpur, Moscow, Dallas, Kuala Lumpur, Coimbatore, Thane, Milan, Algiers, Surat, Ankara, Sydney, Brisbane, Karachi, Edmonton, Ahvaz, Hyderabad, Thiruvananthapuram, Madrid, Dammam, Mexico City, Ernakulam, Dubai, New York, Noida, Secunderabad, Chiyoda, Rajkot, Kanpur, New Delhi, Kuwait City, Montreal, Mumbai, Caracas, Gimhae-si, Jaipur, Nashik, Busan, Baroda, Toronto, Port-of-Spain, Kolkata.
Countries we Export our Aluminium Alloy 6061-T6 Plates, Sheets ans Coils to :
Mexico, Portugal, Switzerland, Zimbabwe, Azerbaijan, Taiwan, Croatia, Bangladesh, Costa Rica, United Kingdom, Macau, Mexico, Austria, Germany, Egypt, Netherlands, Ghana, Saudi Arabia, United States, New Zealand, France, Tibet, Kazakhstan, Poland, Poland, Norway, Trinidad & Tobago,Tunisia, Greece, Ecuador, Turkey, Belarus, Ukraine, Slovakia, Russia, Estonia, Kenya, Libya, Puerto Rico, Argentina, Kuwait, South Korea, Singapore, Pakistan, Angola, Morocco, Thailand, Jordan, Bulgaria, Iraq, Iran, Hong Kong, Ireland, Brazil, Oman, Indonesia, Lithuania, Peru, Afghanistan, South Africa, Italy, Chile, Gabon, Chile, Philippines, Sri Lanka, Nigeria, Malaysia, Bahrain, Spain, Denmark, Finland, Canada, China, Bolivia, India, Venezuela, Serbia, Hungary, Iran, Yemen, Australia, Qatar, Romania, Gambia, Israel, Colombia, Japan, Nepal, Czech Republic, Lebanon, Belgium, Namibia, Sweden, Mongolia, Bhutan, Nigeria, Algeria, United Arab Emirates, Vietnam.
People Also Search as:
Aluminium 6061-T6 Stockist, Aluminium 6061-T6 Plates Stockist, Aircraft Metal Tubes, Channels & Angles, Aircraft Aluminum Sheet, 6061-T6 Aluminum Sheet, 6061-T6 Aluminum Sheets, 6061-T6 Aluminum Plate, 6061-T6 Aluminum Plates, 6061 Aluminum Sheet, 6061 Aluminum Sheets, 6061 Aluminum Plate, 6061 Aluminum Plates, Aluminium Sheet 6061-T6, Aluminium 6061-T6 Sheet Suppliers, 6061 Aluminium Sheet Manufacturer in India, Jindal 6061 Aluminium Sheet dealers in India, 6061 Aluminium Sheet, ASTM B209 6061 Aluminium Sheet traders in India, Hindalco 6061 Aluminium Sheet Dealers in Mumbai, Jindal 6061 Aluminium Sheet Dealers in India, Wholesaler of Aluminium Sheet Grade 6061, EN AW 6061 Aluminium Extruded Sheet exporter in India, 6061 Aluminium Stucco Sheets distributor in India, ASME SB209 6061 Aluminium Sheet suppliers in India, Hindalco 6061 Aluminium Sheet dealer in India, Hot Rolled 6061 Aluminium Sheet Dealers, 6061 Aluminium Sheet Suppliers in Mumbai, AL6061 T6 Aluminium Steel Sheet Stockist in India, 6061 Aluminium Corrugated Sheet Suppliers in Mumbai, Best Price of EN AW 6061 H14 Aluminium Sheet, 6061 Aluminium Sheet Suppliers in UAE, 6061 Aluminium Sheet Supplier Singapore, Dealer & Distributor of All 6061 Aluminium Alloy Sheet Grades, Stockholder of 6061 Aluminium Sheet 1mm, 6061 Aluminium Sheet 2mm stockholder in India, 6061 Aluminium Sheet 3mm wholesaler in India, Aluminium EN AW 6061 Sheet 5mm importers in India, 6061 Aluminium Sheet Cut To Size At Best Price, Manufacturer of 6061 Aluminium Sheet in Mumbai, India, 6061 Aluminium Alloy Sheet Suppliers, Exporter of 6061 Aluminium Sheet in India, Aluminium 6061 Flat Sheet manufacturer in Mumbai, Maharashtra, Aluminum Wrought Alloy grade 6061 Sheets manufacturers in Rajkot, Gujarat, Hot Forming 6061 Aluminium Sheet, Cold Forming 6061 Aluminium Material Sheet, Cold Rolled 6061 Aluminium Sheets, Automotive 6061 Aluminum Alloy Sheet, 4×8 6061 Aluminum Sheet Manufacturer in India, EN 485-2 6061 Aluminium Patterned Sheet Stockist, 6061 Aluminium Sheet Price in India
Aluminium 6061 Sheets Manufacturer in India:
1100-H14 Aluminum Sheet:  ASTM-B-209
2024-T3 ALCLAD Aluminum Sheet:  AMS-QQ-A-205/5, ASTM-B-209, AMS-4041
2024-T3 BARE Aluminum Sheet:  AMS-QQ-A-205/5, ASTM-B-209, AMS-4037
2219-T6 Aluminum Sheet:
2219-O Aluminum Sheet:  AMS-QQ-A-250/30
3003-H14 Aluminum Sheet:  ASTM-B-209
3003-O Aluminum Sheet:  ASTM-B-209
4047-F Aluminum Sheet:  AMS-4185, BAlSi-4
5052-H32 Aluminum Sheet:  ASTM-B-209, AMS-4016
5052-H38 Aluminum Sheet:  ASTM-B-209
5052-O Aluminum Sheet:  ASTM-B-209, AMS-4015
6061-O Aluminum Sheet:  ASTM-B-209, AMS-4025
6061-T4 Aluminum Sheet:  ASTM-B-209, AMS-4026
6061-T6 Aluminum Sheet:  ASTM-B-209, AMS 4027
7075-T6 Aluminum Sheet:  AMS-QQ-A-250/12, AMS-4045
7075-O ALCLAD Aluminum Sheet:  ASTM-B-209
7075-O BARE Aluminum Sheet:  AMS-QQ-A-250/12, AMS-4045
Aluminum Specular Lighting Sheet
Standards :
Different forms and tempers of 6061 aluminum alloy are discussed in the following standards:
ASTM B 209: Standard Specification for Aluminum and Aluminum-Alloy Sheet and Plate

ASTM B 210: Standard Specification for Aluminum and Aluminum-Alloy Drawn Seamless Tubes

ASTM B 211: Standard Specification for Aluminum and Aluminum-Alloy Bar, Rod, and Wire

ASTM B 221: Standard Specification for Aluminum and Aluminum-Alloy Extruded Bars, Rods, Wire, Profiles, and Tubes

ASTM B 308: Standard Specification for Aluminum-Alloy 6061-T6 Standard Structural Profiles

ASTM B 483: Standard Specification for Aluminum and Aluminum-Alloy Drawn Tube and Pipe for General Purpose Applications

ASTM B 547: Standard Specification for Aluminum and Aluminum-Alloy Formed and Arc-Welded Round Tube

ISO 6361: Wrought Aluminum and Aluminum Alloy Sheets, Strips and Plates
| | |
| --- | --- |
| ALLOYS | SPECIFICATIONS |
| 1100 | AMS-4001, 4003, QQ-A-250/1 |
| 2014-BARE | AMS-4028, 4029 |
| 2014-ALCLAD | QQ-A-250/3 |
| 2024-BARE | AMS-4035,37, QQ-A-250/4 |
| 2024-ALCLAD | AMS-4040, 41, QQ-A-250/5 |
| 2124 | AMS-4101, QQ-A-250/29 |
| 2219 | AMS-4031, 94, 95, QQ-A-250/30 |
| 3003 | AMS-4006, 4008, QQ-A-250/2 |
| 5052 | AMS-4015, 16, 17, QQ-A-250/8 |
| 6013 | AMS-4347, 4216 |
| 6061 | AMS-4025, 26, 27, QQ-A-250/11 |
| 7050 | AMS-4050, 4201, BMS-7-194 |
| 7075-BARE | AMS-4044, 45, QQ-A-250/12 |
| 7075-ALCLAD | AMS-4048, 49, QQ-A-250/13 |
| 7178-BARE | QQ-A-250/14 |
| 7178-ALCLAD | QQ-A-250/15 |
| 7475 | AMS-4084, 4085 |
| | | | | | | |
| --- | --- | --- | --- | --- | --- | --- |
| European Standard | BS (OLD) | USA (AA) | GERMANY (DIN) | ISO | IS | Canadian |
| EN AW-1050 A | 1E | 1050 | Al99.5 | Al99.5 | 19500, 19501 | 1 S |
| EN AW-1070 A | – | 1070 | Al-99.7 | Al-99.7 | 19700 | – |
| EN AW-1100 | IC | 1100 | Al-99.0 | Al-99.0 | 19000 | 2 S |
| EN AW-2011 | FC1 | 2011 | AlCuBiPb | AlCu6BiPb | – | 28S |
| EN AW-2014 | HE15 | 2014 | AlCuSiMn | AlCu4SiMg | 24345 | B26S |
| EN AW-2024 | – | 2024 | AlCuMg2 | AlCu4Mg1 | – | 24 S |
| EN AW-3003 | N3 | 3003 | AlMnCu | AlMn1Cu | 31000 | 3 S |
| EN AW-3103 | – | 3103 | – | AlMn1 | – | – |
| EN AW-6101A | E91E | 6101 | E AlMgSi 0.5 | E AlMgSi(A) | 63401 | D50S |
| EN AW-6005 | – | 6005 | AlMgSi0.7 | AlSiMg | 62400 | C51S |
| EN AW-6351 | HE30 | 6351 | AlMgSi1 | AlSiMg0.5Mn | 64430 | B51S |
| EN AW-6060 | – | 6060 | AlMgSi 0.5 | AlMgSi | – | – |
| EN AW-6061 | HE20 | 6061 | AlMgSiCu | AlMg1SiCu | 65032 | 65S |
| EN AW-6063 | HE9 | 6063 | AlMgSi0.5 | AlMg0.7Si | 63400 | 50S |
| EN AW-6082 | HE30 | 6351 | AlMgSi1 | AlSi1MgMn | 64430 | B51S |
Common Aluminium 6061 Sheet Grades :
6061 Aluminium Sheet Grade 19000

6061 Aluminium Sheet Grade 19500

6061 Aluminium Sheet Grade 24345

6061 Aluminium Sheet Grade 24534

6061 Aluminium Sheet Grade 31000

6061 Aluminium Sheet Grade 52000

6061 Aluminium Sheet Grade 53000

6061 Aluminium Sheet Grade 54300

6061 Aluminium Sheet Grade 65032

6061 Aluminium Sheet Grade 63400

6061 Aluminium Sheet Grade 64430

6061 Aluminium Sheet Grade 74530

1100 Aluminum Sheet

1050 Aluminum Sheet

Aluminium 2014 T6 Sheet

Aluminum 2024-t351 Sheet

3003 Aluminum Sheet

5052 Aluminum Sheet

5086 Aluminum Sheet

5083 Aluminum Sheet

5754 Aluminum Sheet

6061 Aluminum Sheet

6082 T6 Aluminum Sheet

Aluminum Alloy 6351 T6 Sheet

6063 6061 Aluminium Sheet

6066-T6 Aircraft Aluminum Alloy Sheet

6005 Aluminum Sheet

7075 Aluminum Sheet

7050 Aluminum Sheet

LM-2 Aluminum Sheet

LM6 Aluminum Sheet
6061 Aluminium Sheet Equivalent Grades :
| | | | | | | | | |
| --- | --- | --- | --- | --- | --- | --- | --- | --- |
| INDIA  |   | U.S.A. | BRITAIN | CANADA | GERMANY | RUSSIA | I.S.O. | FRENCH |
| New IS | Old IS | (A.A.) | (B.S.) |   | (DIN) | – | – | – |
| 19501 | 1E | 1050(E.C.) | 1E | C 1S | E-Al 99.5 | – | Al-99.5 | 1050A |
| 19500 | 1B | 1050 | 1B | 1S | A-99.5 | – | – | – |
| 19600 | – | 1060 | – | – | – | – | Al-99.7 | – |
| 19700 | – | 1070 | – | – | Al-99.7 | – | Al-99.8 | – |
| 19800 | 1A | 1080 | 1A | – | – | – | Al-99.0 | 1200 |
| 19000 | 1C | 1100 | 1C | 2S | Al-99.0 | AD | Al-Cu-6 Bi Pb | 2011 |
| – | – | 2011 | FC1 | 28S | Al-Cu-Bi-Pb | – | – | – |
| 24345 | H15 | 2014 | H15 | B26S | Al-Cu-Si | AK | Al-Cu-4Mg Si | – |
| 24534 | H14 | 2017 | H14 | 17S/16S | – | D1 | Al-Cu-4Mg 1 | 2024 |
| – | – | 2024 | – | 24S | Al-Cu-Mg.2 | – | AlCu-4PbMg | 2030 |
| – | – | 2030 | – | – | Al-Cu-Mg-Pb | – | Al-Cu2-Mg1.5-Ni | 2618 |
| – | – | 2618 | 2618 | – | – | – | A-Mn 1 | 3003 |
| 31000 | N3 | 3003 | N3 | 3S | Al-Mn | A-Mn | Al Mn 1 Mg 1 | 3004 |
| – | – | 3004 | – |   | Al-Mn.1-Mg.1 |   | Al Mn 1 Mg 0.50 | 3005 |
| – | – | 3005 | – |   | Al-Mn.1-Mg.0.50 |   | Al-Si5 | 4043 |
| 43000 | N21 | 4043 | N21 | 33S | Al-Si-5 | AK | – | – |
| 46000 | N2 | 4047 | N2 | 35S | – | – | A-Mg-1 | – |
| 51000 | – | 5005 | – | B57S | – | – | Al-Mg-2 | 5251 |
|   |   | 5051 | 5251 |   | Al-Mg.2 Mn.0.30 |   | A-Mg-2.5 | 5051 |
| 52000 | N4 | 5052 | N4 | M57S | Al-Mg.2 | A-Mg | A-Mg-4 | – |
| 53000 | N5 | 5086 | N5 | 54S | – | A-Mg-3 | Al-Mg-4.5 Mn | 5083 |
| 54300 | N8 | 5083 | N8 | D54S | Al-Mg-4.5 Mn | – | Al-Mg.5 | 5356 |
| 55000 | N6 | 5056 | N6 | A56S | Al-Mg.5 | – | Al-Mg.3-Mn | 5454 |
|   |   | 5454 | 5454 |   | Al-Mg.2.7-Mn | – | Al.Mg.3 | 5754 |
|   |   | 5754 |   |   | Al-Mg.3 |   | Al-Mg-1Si Cu | – |
| 65032 | H20 | 6061 | H20 | 65S | Al-Mg-Si Cu | – | Al-Mg-Si | – |
| 63400 | H9 | 6063 | H9 | 50S | Al-Mg-Si 0.5 | – | Al-Si-1 Mg | 6081 |
| 64430 | H30 | 6351 | H30 | B51S | Al-Mg-Si 1 | AV | Al-Si-1 Mg Mn | 6082 |
|   |   | 6082 | 6082 |   | Al-Mg-Si 1 | – | – | – |
| 64423 | H11 | 6066 | H11 | C62S | – |   | – | – |
| 62400 | – | 6005 | – | C51S | – | – | – | – |
| 63401 | 91E | 6101 | 91E | D50S | E.Al.Mg.Si 0.5 | – | – | – |
| 64401 | – | 6201 | – | – |   | – | – | – |
| – | – | 7020 | 7020 | – |   | – | – | 7020 |
| 74530 | – | 7039 | – | D74S |   | – | – | 3004 |
| – | – | 7075 | DTD-5124 | 75S |   | – | Al-Zn 6 Mg Cu | 7075 |
| 40800 |   | 8011 |   |   |   | – | Al-Fe-Si | 8011 |