Titanium Grade 2 Plates, High Quality Titanium Grade 2 Sheet Manufacturer
UNS R50400 Plates & Sheet Stockist, Supplier, Exporter from Mumbai.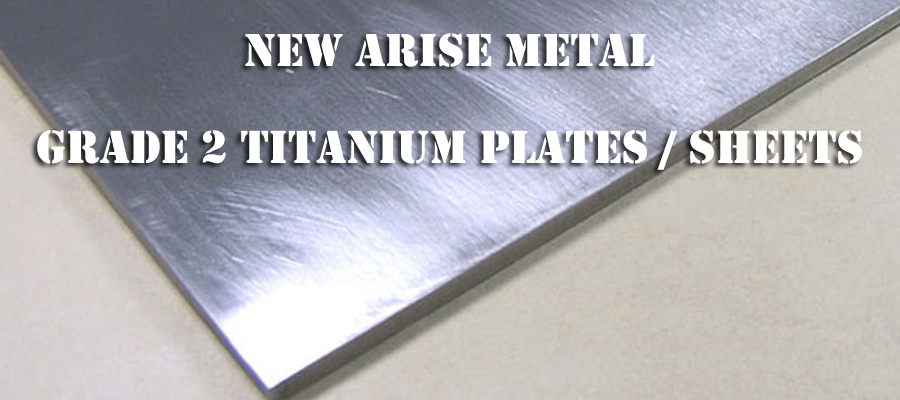 Titanium Grade 2 Sheets & Plates / Ti Gr. 2 / UNS R50400
Titanium Grade 2 Plates Manufacturer
M/s New Arise Metal is a known Stockist & Supplier of Titanium Grade 2 Plates & Sheets, which has outstanding corrosion resistance to sea water, and thus is used in propeller shafts, rigging and other parts of boats that are exposed to sea water. Titanium Grade 2 Plates & Sheets / Titanium UNS R50400 Plates is used in steel as an alloying element (Ferro-titanium) to reduce grain size and as a deoxidizer, and in stainless steel to reduce carbon content. Commercially Pure CP Titanium Grade 2 Plates is slightly stronger than Grade 1 but equally corrosion resistant against most applications. AMS 4902 Grade 2 Plates & Sheets are used in airplanes, missiles and rockets where strength, low weight and resistance to high temperatures are important. Buy Titanium Alloy Grade 2 Sheets / Plates at reasonable price from New Arise Metal. Titanium CP Grade 2 Plates offers excellent corrosion resistance, superior formability and strength between grades 1 and 3.
The high strength, low weight ratio and outstanding corrosion resistance inherent to Grade 2 Titanium Plates has led to a wide and diversified range of successful applications which demand high levels of reliable performance in surgery and medicine as well as in aerospace, automotive, chemical plant, power generation, oil and gas extraction, sports, and other major industries. With moderate strength and excellent corrosion resistance and formability, Ti Gr. 2 Plates represents the most widely used form of titanium. ASTM B265 GR 2 Plates undergoes an allotropic transformation from the hexagonal close-packed alpha phase to the body-centered cubic beta phase at a temperature of 882.5 Degree C (1620.5 Degree F).
New Arise Metal is a leader in Titanium Grade 2 Sheets & Plates Stockist, Supplier, Exporter and Titanium AMS 4902 Strips exporter, of the quality Titanium Grade 2 Sheets & Plates; having accessibility in a huge range of titanium and titanium alloy sheets and plates. Titanium Grade 2 Sheets & Plates is a heat treatable and has soaring ductility and strength alongside with first-rate fabricability and weldability. It's a grouping of exceptional good strength and corrosion resistance, showing the maximum strength of all of the unalloyed grades. They are used in a range of chemical procedure paraphernalia in addition to in aeronautical and marine applications.
Titanium Grade 2 Plates is an unalloyed, standard strength titanium product. This titanium grade is used in aircraft engines, marine and airframes parts, where it's distinguishing characteristics are corrosion resistance and good weldability.
CP Grade 2 Titanium Sheet, Coil, Bar, Plate - AMS 4902, ASME SB 265-2 / ASTM B 265-2
Commercially Pure or CP Titanium in unalloyed. Grade 2 has higher levels of iron and oxygen than other CP grades, which offers excellent formability and moderate strength with superior corrosion resistance.  CP Grade 2 titanium is widely used in heat exchangers.  CP2 is one of the most common titanium grades, with properties that make it a good candidate for chemical and marine, aerospace and medical applications. 
Descriptions of Titanium Grade 2 :
Of the four commercially pure (C.P.) titanium grades, Grade 2 is typically used in applications that require superior corrosion resistance in various aggressive media. Corrosion resistance is similar between these four C.P. grades but mechanical properties vary along with varying oxygen and iron contents. Typical applications for the "C.P." grades include chemical process, petroleum refining, biomedical as well as heat exchangers in an array of different applications. Continuous service temperatures can reach up to 800°F with occasional, intermittent service at 1000°F.
Grade 2 Titanium is the commercially pure titanium used in most of the chemical processing plants and is cold formable. Grade 2 plate and sheet can have ultimate tensile strength at and above 40,000 psi.
Product Features:
Corrosion resistant

Accurate dimensions

Can sustain high pressure & temperature load

Rust proof finish

Smooth transition from flange thickness to pipe

Ensure excellent stress distribution
Specifications of Titanium Grade 2 :
| | | |
| --- | --- | --- |
| Dimension | : | EN, DIN, JIS, ASTM, BS, ASME, AISI |
| Specifications | : | ASTM B265 / ASME SB265, AMS 4911 |
| Standard | : | ASTM, ASME and API |
| Thickness | : | 4.0mm – 100mm |
| Specialize | : | Shim Sheet, Perforated Sheet, B. Q. Profile. |
| Form | : | Coils, Foils, Rolls, Plain Sheet, Shim Sheet, Perforated Sheet, Chequered Plate, Strip, Flats, Blank (Circle), Ring (Flange) |
| Finish | : | Hot rolled plate (HR), Cold rolled sheet (CR), 2B, 2D, BA NO(8), SATIN (Met with Plastic Coated) |
| Hardness | : | Soft, Hard, Half Hard, Quarter Hard, Spring Hard etc. |
| Grade | : | Titanium Grade 2  (UNS R50400) |
Titanium Grade 2 Plates & Sheets Equivalent Grades :
| | | |
| --- | --- | --- |
| STANDARD | WERKSTOFF NR. | UNS |
| Titanium Grade 2 | 3.7035 | R50400 |
Grade 2 Titanium Plates Chemical Compositions / Chemistry of Titanium Grade 2 :
| | | | | | | |
| --- | --- | --- | --- | --- | --- | --- |
| Grade | C | N | O | H | Ti | Fe |
| Titanium Gr 2 | 0.10 % max | 0.03 % max | 0.25 % max | 0.015 % max | Bal | 0.3 % Max |
ASTM B265 Titanium Grade 2 Sheets & Plates Mechanical properties:
| | | | | |
| --- | --- | --- | --- | --- |
| Min.Tensile(KSI) | Min. Yield (KSI) | Harness | Tensile Modulus | Poisson's Ratio |
| 50 | 40 | 14.9 | 103 GPa | 0.34-0.10 |
Physical Properties of Grade 2 Titanium Alloy Plates & Sheets :
| | |
| --- | --- |
| Density | 0.163 lbs/in³ , 4.51 g/cm³ |
| Mean Coefficient of Thermal Expansion, in/in/°F (mm/m/°C): | 70- 212°F (20- 100°C): 4.78 x 10-6 (8.6) |
| Thermal Conductivity: BTU-in/h-ft-°F (W/m-°K): | At 70°F (21°C): 114(16.4) |
| Modulus of Elasticity, ksi (MPa) | 15.2 x 10³(105 x 10³) in tension |
| Melting Point | 3040°F (1670°C) |
Types of Titanium Grade 2 Plates & Sheets :
| | |
| --- | --- |
| Titanium Grade 2 Plates | Titanium Grade 2 plates |
| Grade 2 Titanium Plates & Sheets Stockist | Titanium Grade 2 Sheet & Plate Supplier |
| Cut to Size Titanium Grade 2 Plates | Hot Rolled Titanium Grade 2 Plates |
| Titanium Grade 2 CR Plates Stockist | Titanium Grade 2 HR Plates Dealer |
| Leading Manufacturer Of Titanium Grade 2 Plates | ASTM B265 High Quality Titanium Plates, |
| ASME SB 265 Titanium Grade 2 Plates Distributors | Grade 2 Titanium Plates Exporter |
| Titanium Grade 2 Plates | Titanium Grade 2 ASTM B265 Plates Exporter |
| Titanium Grade 2 Chequered Plate | ASTM B265 Titanium Grade 2 Plates Supplier |
| DIN 3.7035 Titanium Diamond Chequered Plate | Grade 2 Titanium Plates Manufacturers |
| UNS R50400 Titanium Plate Stockholder | Titanium Grade 2 Cold Rolled Plates |
| Titanium Grade 2 Plate 2B Finish Dealer | #4 Finish Titanium Grade 2 Plates |
Specifications of Grade 2 Titanium :
R50400, ASTM B348, ASME SB348, ANNEALED, MERCURY FREE, EN 10204-3.1, ASTM B265, ASME SB265, COLD ROLLED, HOT ROLLED, ASTM B265-79 GR 2; AMS 4902, B348-78 GR 2, F467-76 GR 2, F468-76 GR 2, B337-78 GR 2, B338-78 GR 2, F67-77 GR 2
Standard Inventory Specifications :
UNS R50400

AMS: 4902

ASTM: B 265

ASTM B 348

ASTM F 67

MIL-T-9046

MIL-T-9047
Common Applications of CP Grade 2 Titanium :
Airframe skins, ductwork, brackets, galley equipment

Chemical processing condensers, evaporators, reaction vessels

Desalinization plant tubing and tube heaters

Cryogenic vessels

Heat exchangers

Electroplating

Gaskets

Medical devices
Resistance to Corrosion of Titanium Grade 2 :
Titanium's C.P. grades corrosion resistance comes from a strongly adherent, stable, protective oxide film, which forms in the presence of oxygen. This film makes the commercially pure titanium grades resistant to most oxidizing, neutral and inhibited reducing as well as mildly reducing environments. Strong reducing media may cause heavy corrosion.
Fabrication and Heat Treatment for Grade 2 Titanium :
Titanium Grade 2 has good ductility, which allows for cold formability. The minimum bend radius for material under 0.070″ thick should be 2T while 2.5T should be used for material over 0.070″. The material can also be easily machined, hot worked and welded. Hot working should be performed between 400°F and 600°F. Stress relieving should be performed by heating to a temperature between 900°F and 1100°F followed by either forced air or slow cooling.
Welding of Grade 2 titanium can be done using various methods such as MIG and TIG. Inert gas shielding is crucial to prevent oxygen pickup and embrittlement of the weld area. A mixture of argon and helium is typically preferred but should be proven before accepting a procedure. Preheat or post heat treatments are not required.
Product Usage & Application :
Paper & Pulp Companies

High Pressure Applications

Oil and Gas Industry

Chemical Refinery

Pipeline

High Temperature Application

Water Pipe Line

Nuclear Power Plants

Food Processing and Dairy Industries

Boiler & Heat Exchangers
Other Available Products of Titanium Grade 2 Sheets, Plates, Shims, Flats :
B265 Titanium Alloy Chequered Plate Suppliers, Titanium Alloy B265 Gr. 2 Sheets Suppliers in Delhi, ASTM B265 Titanium Plates Stockholder in Kolkata, Grade 2 Titanium Alloy Shim Sheets Manufacturer, Ti Alloy ASTM B265 Hot Rolled Plates Dealers, Titanium Gr.2 Perforated Sheets Stockiest in Pune, B265 Grade 2 Cold Rolled Sheet in Ahmedabad, ASTM B265 Titanium Grade 2 Plates in Chennai, Top Quality B265 Grade 2 Cold Rolled Sheet Exporter, Titanium AMS 4911 Coils Distributors, Titanium Alloy Profile Dealers.
We Export Titanium Grade 2 Plates & Sheets to :
Trinidad & Tobago, Tunisia, Chile, Bangladesh, Costa Rica, Spain, Canada, Austria, Ghana, Romania, Sweden, Afghanistan, Australia, South Africa, Mexico, Bulgaria, Denmark, India, Sri Lanka, Serbia, Bolivia, United States, Malaysia, Vietnam, Puerto Rico, Iraq, Poland, Argentina, Japan, Israel, Slovakia, Ireland, Bahrain, Egypt, Indonesia, Singapore, Nigeria, Lithuania, Qatar, Venezuela, Croatia, Netherlands, Angola, Saudi Arabia, Czech Republic, South Korea, United Arab Emirates, Gabon, Poland, Gambia, Germany, New Zealand, France, Oman, Hungary, Estonia, Greece, Tibet, Jordan, Zimbabwe, Chile, Turkey, Azerbaijan, Taiwan, Hong Kong, Namibia, Philippines, Algeria, Mongolia, Mexico, Brazil, Lebanon, Nepal, Ecuador, Switzerland, Peru, Ukraine, Italy, Yemen, Libya, Portugal, Kenya, United Kingdom, Iran, Kazakhstan, Kuwait, Nigeria, Macau, Belarus, China, Pakistan, Russia, Bhutan, Belgium, Finland, Thailand, Colombia, Morocco, Iran, Norway, Kazakhstan, Algiers, Johannesburg, Pretoria, Dakar, Ghana, Uganda, Mozambique, Iraq, Subra al-Haymah, Australia, Yaoundé, South Africa, Saudi Arabia, Kampala, Benin, Ethiopa, Kuwait, Luanda, Abu Dhabi, Peru, Sudan, Colombia, Nairobi, Turkey, Russia, Khartoum, Kano, UAE, Bahrain, Cape Town, Trinidad and Tobago, Dar es Salaam, Nigeria, Antananarivo, Tripoli, Addis Ababa, London, Douala, Lebanon, Tunisia, Ouagadougou, Mogadishu, Harare, Mbuji-Mayi, Qatar, Zaria, Soweto, Omdurman, Angola, Alexandria, Dubai, Yemen, Casablanca, Africa, Oman, Giza, Kinshasa, Bamako, UK, Houston, Accra, Algeria, Argentina, Cairo, Chine, Kolwezi, Hong Kong, Abidjan, Vietnam, Port Elizabeth, Maputo, Maiduguri, Canada, Port Harcourt, Singapore, Egypt, Venezuela, Freetown, Ibadan, Iran, Fez, Malaysia, Mexico, Cameroon, New York, Indonesia, Italy, Azerbaijan, Israel, Conakry, Brazil, Democratic Republic of the Congo, New Zealand, Morocco, Jordan, United States, Thailand (Bangkok), Cyprus, Sri Lanka, Rabat, Bulawayo, Kaduna, Durban, Colombo, Germany, Lubumbashi, Lagos, Brazzaville.
We Supply Grade 2 Titanium Sheets & Plates to :
Ranchi, Karachi, Doha, La Victoria, Santiago, Chennai, Lagos, Nashik, Mumbai, Muscat, Hanoi, Ahvaz, Houston, Tehran, Al Jubail, Melbourne, Dubai, Istanbul, Colombo, Hyderabad, Haryana, Dallas, Kanpur, Riyadh, Chandigarh, Gurgaon, Pimpri-Chinchwad, Jamshedpur, Bangkok, Milan, Aberdeen, Toronto, Thiruvananthapuram, Perth, Algiers, Atyrau, Montreal, Bengaluru, Nagpur, Baroda, Secunderabad, Surat, Granada, Thane, Ho Chi Minh City, Courbevoie, Edmonton, Moscow, Singapore, Mexico City, Calgary, Caracas, Seoul, Busan, Jaipur, Faridabad, Visakhapatnam, Lahore, Pune, Los Angeles, Kolkata, Abu Dhabi, Gimhae-si, Kuwait City, New York, Ulsan, Indore, London, Navi Mumbai, Sharjah, Ernakulam, Geoje-si, Noida, Sydney, Bogota, Howrah, Hong Kong, Bhopal, Ludhiana, Vadodara, Port-of-Spain, Jeddah, New Delhi, Manama, Ahmedabad, Petaling Jaya, Coimbatore, Al Khobar, Rio de Janeiro, Brisbane, Vung Tau, Rajkot, Kuala Lumpur, Ankara, Dammam, Madrid, Jakarta, Chiyoda, Cairo, Tripura, Ahmedabad, Kolkata, Lucknow, Andhra Pradesh, Pune, Ambala, Maiduguri, Buxar, Puducherry, Karnataka, Maharashtra, Bhiwadi, Surat, Mizoram, Manipur, Delhi, Bangalore, Kerala, Ballia, Jamalpur, Chennai, Jaipur, Hyderabad, Indore, Patna, Agra, West Bangal, Ranchi, Durg, Bilaspur, Raipur, Satpura, Malwa, Kanpur, Dehradun etc.