42CrMo4 Steel Plate, SAE 4140 Hot Rolled Plates Dealers, EN 19 DIN 1.7225 Plates Stockholders in Mumbai
AISI 4140 / SAE 4140 Alloy Steel Grade Plate Exporter, Stockist, Supplier, Importer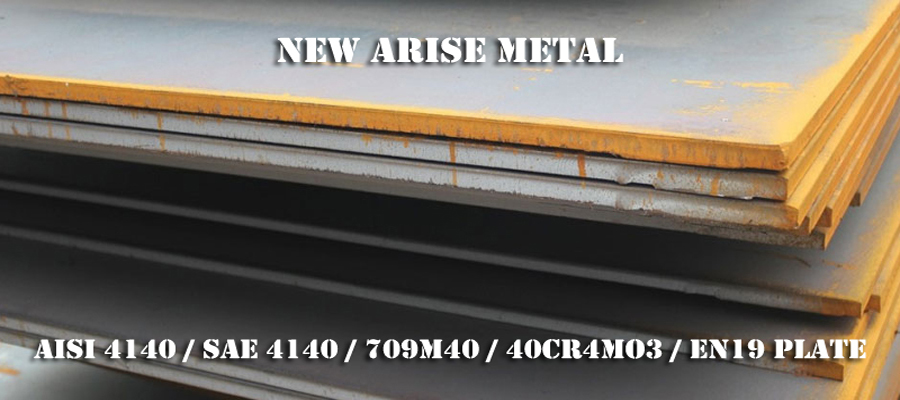 AISI 4140 Plate / SAE 4140 Plate
The AISI 4140 Grade Plates that we offer exactly match the desirable plates of such kinds. It is of the best quality and endowed with high tensile strength. We are working in full throttle to make it available to the length and breadth of the country and abroad. We are one of the eminent Stockist, Exporters and Suppliers of AISI 4140 Grade Steel Plate from Mumbai, Maharashtra, India.

4140 Grade Plate Steel is a high quality Quenched and Tempered Alloy Structural steel. It belong to the high quality medium carbon, Oil Quenched & Tempered Hardness is 28-34 HRC. 4140 Grade steel Annealing delivery hardness less than 250HB.
A829-4140 steel plate is a structural-quality, alloy-steel plate that can be supplied in the following conditions: as rolled, annealed, normalized, and normalized and tempered. A829-4140 can be used for a wide variety of applications where greater toughness and wear resistance is needed over lower carbon grades.
The list for uses of A829-4140 is long and includes: strippers, holder blocks, mold bases, ejectors, forming dies, back-up and support tooling, fixtures, stubs, couplings, reamer bodies, tie rods, gears, gear racks, valves, chain links, jigs, spindles, sprockets, tool bodies, tool holders, guides, tracks, ways, slides, wear strips or parts, molds, brake dies, trim dies, bolsters, machinery parts and components.
4140 alloy steel is a low alloy steel that contains chromium, molybdenum, and manganese.  Because it contains chromium and molybdenum it is sometimes referred to as Chromoly steel.  It has high fatigue strength, excellent strength to weight ratio, abrasion and impact resistant, good ductility, and has excellent torsional strength.
AISI 4140 steel plate can be plasma or flame cut to shape, and then annealed onsite in our furnace.  Annealing greatly improve results from grinding and increases its machinability.  A thorough annealing is also required before quench and tempered hardening processes.
Purchased as rolled, pre-Hardened (PH), or in the annealed condition, 4140 steel plate possesses a full range of hardening and wear resistance properties.  Due to its good hardness penetration and uniformity flame hardening, induction hardening, or oil hardening can considerably increase the wear resistance of 4140 steel.
4140 PH has the same industry standard chemistry as 4140 plate HR plate but with an industry standard Rockwell C Hardness rating of 28 – 32.
New Arise Metal is one of the renowned manufacturers of SAE 4140 PLATES / EN-19 PLATES, which is made of using quality alloy and technology to make it provide a smooth function.
Used for food and surgical stainless steel, SAE 4140 PLATES are available in various dimensions as per the requirements of clients. In order to cement our position, we are successfully presenting a wide and quality assured gamut of EN-19 PLATES, which is demanded for diverse structural applications. These EN-19 Steel PLATES are ideal for various projects in industries such as aero-space, food & dairy, paper industry, chemical and power plants. SAE 4140 Steel PLATES are highly acclaimed for their high strength, corrosion resistant designs and greater durability. EN-19 Stainless Steel PLATES are greatly applicable in many industries for deferring the direction of flow of liquids, where its resistance to chloride attack means it is often selected for use in marine atmospheres. SAE 4140 Stainless Steel Plates offers some great features to our clients such as Robust construction, Accurate dimension, High durability, Convenient to use, Dimensionally accurate, Cutting edge finishing, and more.
The company has an illustrious clientele that increases to market in several countries, and is recognized as an innovator in the market when it comes to their products and finishing excellent quality. As we are regularly maintaining bulk stock in every item, we can arrange supplies in time and at the most competitive rates.
Related Specifications :
ASTM A29/A29M DIN EN 10083/3 JIS G4053 GB GB/T 3077
AISI 4140 FORGE Steel Mechanical Properties and Physical properties :
Density of EN19 Alloy steel material: 7.85kg/cm3

Engineering Alloy Steel material EN19 yield strength: 555-755 N/mm²

Tensile strength of EN19 Engineering steel: 775-1075 N/mm²

Engineering steel material EN19 hardness in HRC

Flame or induction hardening can give a case hardness of 50 HRC or higher.

EN19 equivalent material with AISI 4140, DIN 42CrMo4 EN 1.7225, GB 42CrMo, JIS SCM440C alloy engineering steel
4140 PH or 4140 PREHARD has the same industry standard chemistry as above.  4140 Steel Bar, 4140 HR Plate, Oil Quenched & Tempered 4140 PH has a standard, and industry recognized Rockwell C Hardness rating of 28 - 32.

Most sources recognize and tend to prefer quoting and requesting the Rockwell C Scale. 4140PH ranges from Brinell hardness 270 - 300.

Thick 4140 AN (in the Annealed condition) is flame cut, then Annealed onsite in our furnace.  Annealing greatly improves Grinding and Machining. Parts can be returned to the standard hardness when followed by a Normalize & Specific Tempering heat treatment process.
Equivalent Grades of AISI 4140 Steel Plate :
| | | | | | |
| --- | --- | --- | --- | --- | --- |
| Internal Standard | BS | DIN | IS | EN | SAF / AISI |
| En 19 | 709M40 | 42CrMo2 | 40Cr4Mo3 | EN19 | 4140, 412 |
SAE 4140, SCM440, 42CrMo4, EN19 (1.7225) Plates - Chemical Composition :
| | | | | | | |
| --- | --- | --- | --- | --- | --- | --- |
| C | Mn | P | S | Si | Cr | Mo |
| 0.35-0.45 | 0.50-0.80 | 0.05 | 0.05 | 0.1-0.35 | 0.9-1.5 | 0.2-0.4 |
SAE 4140 Alloy Steel Plates - Mechanical Property :
| | | | | | |
| --- | --- | --- | --- | --- | --- |
| Tensile Strength | Yield Strength | Elongation | Reduction | Impacting Energy | HBW ≤ |
| Rm, MPa | Rel, MPa | A,% |  Z,% | Aku,J | After annealing |
| ≥1080 | ≥930 | ≥12 | ≥45 | ≥63 | 217 |
High Tensile Steel SAE 4140 Plate Processing :
The majority of normal processing can be performed on EN 19 / SAE 4140 | 1.7225 | 42CrMo4 Steel plate
Cutting

Forming Drilling

Machining

Grinding

Testing
Common Uses of 4140 Steel Plate :
4140 steel can be used for a wide variety of applications where better wear resistance and toughness is needed over normal carbon steels.
Common uses of 4140 steel plate: tooling, machine plates, gears, shafts, sprockets, special machine parts, molds, metal stamping, tool & die, shredders, couplings, reamer bodies, screws, flywheel components, axles, shafts, bolts, sprockets, piston rods and rams.
Typical Applications :
Tooling, machine plates, gears, shafts, sprockets, Special Machine Parts, Molds, Metal Stamping, Tool & Die, Shredders, Automotive, Oil & Gas Industries, Machine Shop, Paper Mills
En Series/ Tool Steel Plates Company , En Series/ Tool Steel Plates Wholesaler, En Series/ Tool Steel Plates Wholesale, En Series/ Tool Steel Plates Suppliers, En Series/ Tool Steel Plates Manufacture, En Series/ Tool Steel Plates Distributors, En Series/ Tool Steel Plates saler, En Series/ Tool Steel Plates Stockist, En Series/ Tool Steel Plates Bulk Distributors, En Series/ Tool Steel Plates supplies, En Series/ Tool Steel Plates exporters
New Arise Metal Supply and Export SAE 1040 Plate / AISI 4140 Plate in Below listed Country :
United States of America, Malaysia, UAE, Indonesia, Saudi Arabia, Iran, Qatar, India, China, Singapore, Canada, Thailand, South Korea, Turkey, Philippines, Egypt, Germany, Italy, Japan, Russia, Vietnam, Australia, South Africa, Portugal, Morocco, Costa Rica, Kazakhstan, Netherlands, Mexico, Brazil, France, Spain, Taiwan, Nigeria, Bangladesh, Kuwait, Iraq, Ukraine, Poland, Jordan, Romania, Oman, Hong Kong, Venezuela, Colombia, Norway, Chile, Trinidad & Tobago, Greece, Czechia, Belgium, Sri Lanka, Cyprus, Angola, Myanmar (Burma), United Kingdom, Pakistan, Sweden, Israel, Switzerland, Denmark, Finland, Argentina, Peru, Ireland, Austria, Algeria, New Zealand, Slovakia, Hungary, Slovenia, Lithuania, Serbia, Bahrain, Bulgaria, Tunisia, Croatia, Ecuador, Estonia, Azerbaijan, Ghana, Lebanon, Dominican Republic, Latvia, Libya, Cambodia, Macedonia (FYROM), Belarus, Jamaica, Palestine and Turkmenistan

We are ready to help for procurement of your EN19 / 4140 GRADE PLATE just click away to get appropriate solution as per requirements.
Global Suppliers and Exporters of SAE 4140 / EN-19 Grade Steel Plates :
Domestic Supply and Exporter of SAE 1010 / AISI 1040 / EN 19 Plates
Milan, Atyrau, Ahmedabad, Navi Mumbai, Santiago, Secunderabad, Ernakulam, Pune, Ranchi, Edmonton, Mumbai, Kolkata, Ludhiana, Al Khobar, Kuala Lumpur, Ahvaz, Ankara, Thane, Lahore, Thiruvananthapuram, Moscow, Montreal, Bhopal, New York, Los Angeles, Muscat, Chennai, Sydney, Abu Dhabi, Rajkot, Ho Chi Minh City, Noida, Surat, Dammam, Perth, Bengaluru, Vung Tau, Courbevoie, Lagos, Singapore, La Victoria, Kanpur, Jeddah, Madrid, Hong Kong, Karachi, Ulsan, Houston, Algiers, Vadodara, Baroda, Brisbane, Geoje-si, Dubai, London, Seoul, Pimpri-Chinchwad, Haryana, Faridabad, Jamshedpur, Aberdeen, Visakhapatnam, Rio de Janeiro, New Delhi, Toronto, Nashik, Kuwait City, Riyadh, Colombo, Mexico City, Caracas, Howrah, Dallas, Al Jubail, Bangkok, Melbourne, Gurgaon, Bogota, Cairo, Coimbatore, Doha, Petaling Jaya, Istanbul, Gimhae-si, Jaipur, Granada, Hanoi, Calgary, Nagpur, Chiyoda, Jakarta, Chandigarh, Port-of-Spain, Indore, Tehran, Manama, Busan, Hyderabad, Sharjah,
International Supply and Exporter of SAE 1010 / AISI 1040 / EN 19 Plates
Libya, Morocco, Kuwait, Qatar, United Arab Emirates, Egypt, Angola, France, Vietnam, Ecuador, Gambia, Mexico, Singapore, Denmark, South Korea, Sweden, Peru, Romania, Bulgaria, Hong Kong, Iraq, Ukraine, Puerto Rico, Israel, Germany, Mongolia, Thailand, Czech Republic, Iran, Chile, Gabon, Yemen, Indonesia, Poland, Azerbaijan, Belgium, Kenya, Hungary, Sri Lanka, Taiwan, Zimbabwe, Belarus, New Zealand, Japan, Iran, Namibia, Norway, Chile, Brazil, Nigeria, Pakistan, Lithuania, Philippines, Nigeria, Tibet, India, China, Macau, Argentina, Canada, Bahrain, Ghana, Kazakhstan, Colombia, Saudi Arabia, Poland, Greece, Afghanistan, Russia, Portugal, Lebanon, Austria, United Kingdom, South Africa, Switzerland, Australia, Algeria, Slovakia, Turkey, Costa Rica, Finland, Estonia, Spain, United States, Ireland, Malaysia, Bhutan, Bolivia, Venezuela, Netherlands, Nepal, Bangladesh, Mexico, Oman, Croatia, Serbia, Italy, Jordan, Trinidad & Tobago, Tunisia,