A283 Grade C Sheet, Plate - Carbon Steel Plate, ASME SA283 Grade C Plate
ASME SA283 / ASTM A283 Grade C Plate Stockist, Supplier, Trader, Dealer, Exporter, Importer, Manufacturer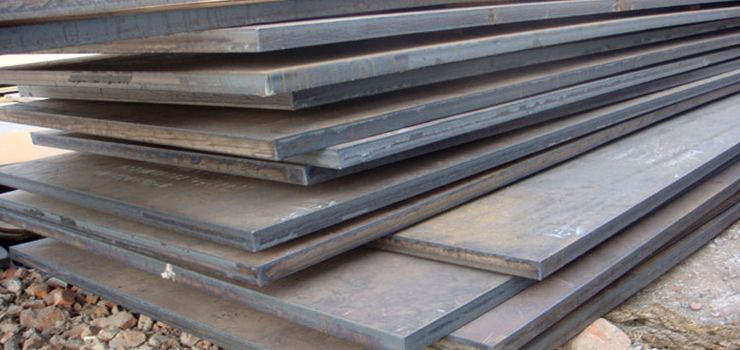 ASTM A283/ ASME SA283 Grade C Plate
ASTM A283 Plate Grade C Steel features low and intermediate tensile strength carbon steel plate of structural quality.
SA283 is a structural carbon steel plate utilized for applications requiring low or intermediate tensile strength. This grade is used in the manufacture of storage tanks and low pressure, temperature controlled vessels.
New Arise Metal Stocks, Trades and Supplies High Quality ASTM A283 Grade C Plates worldwide. Our products are developed to sustain in the changing market trends and demands.
Our ASTM A283 Grade C products are effective in many low pressure applications, but can also be used in different conditions, as well. These products have intermediate to low yield strength yet can be used in structural, mechanical and other engineering purposes. The steel type is primarily used in standard Tanks and Boilers. The steel type also has good formability and weld-ability. Our ASTM A283 Grade C Plate steel is also used in the fabrication of Carbon steel pressure vessels. We deliver products that are available in customizable options to meet customer centric requirements.
Our products can be used in many applications effectively for their wide range of properties and effective utility. Our products are delivered to different industries worldwide.
ASTM A283 Grade C Carbon Steel Plates Specifications :
Standard : ASTM A283 / A283M A36 / A36M, JISG3106, EN10025, AISI, ASTM, BS, DIN, GB, JIS
Thickness : 5 – 300 mm
Width : 1000 – 3500 mm
Length : 1000 – 12000 mm 
Heat Treatment : AR,CR,TMCP, N or QT Heat treatment, PWHT, UT, Low Temperature Impacting Test, HIC and so on.
Specifications of ASTM A283 Gr. C Plate :
The following specifications cover Carbon Steel Plates A283 Grade C
ASTM A283 Grade C

ASTM A284 ©

ASTM A515 (60)

UNS K02401
ASTM A283 Chemical Compositions :
A283 Grade C Steel Chemistry
 
Grade C
Carbon
0.24%
Manganese
0.90%
Phosphorus
0.03%
Sulfur
0.03%
Silicon
0.15-0.4%
Copper
0.20%
ASME SA 283 Gr. C Tensile Strength Plates Processing :
The majority of normal processing can be performed on ASTM A 283 Grade C plate
Cutting

Forming Drilling/ Machining

Grinding

Testing
Some of the key applications are :
Nuclear Reactor Pressure Vessel

Heat recovery steam generations (HRSG)

Steam, Boiler and heat exchanger

Gas and steam turbines

Thermal Power Stations

Separator

Slide conveyor

Liquefied Petroleum

Chemical Industry

Pharmaceutical Equipment

Chemical Equipment

Sea Water Equipment

Heat Exchangers

Condensers

Pulp and Paper Industry

Off-Shore Oil Drilling Companies

Power Generation

Petrochemicals

Gas Processing

Specialty Chemicals

Pharmaceuticals
Availability:
Carbon Steels Plate A283 Grade C is largely stocked by New Arise Metal.
Below is list of Ready Stock available with us with MTC
5 MM X 1250 MM X 6000 MM

6 MM X 1250 MM X 6000 MM

8 MM X 1250 MM X 6000 MM

10 MM X 1250 MM X 6000 MM

12 MM X 1250 MM X 6000 MM

14 MM X 1250 MM X 6000 MM

16 MM X 1250 MM X 6000 MM
Our Main Export Countries :
Asia - Thailand, Singapore, Sri lanka, Vietnam, Bangladesh, South Korea
Middle East - Kuwait, Dubai, Saudi Arabia, Yemen, Iran, Qatar, Oman, Bahrain, Jordan
Europe - United Kingdom, Italy, Belgium, France, Croatia, Spain
South America - Argentina, Chile, Brazil, Colombia, Venezuela, Paraguay
Africa - Ghana, Nigeria, South Africa, Sudan, Libya
Other Types Of ASTM 283 GR C Plates :
| | |
| --- | --- |
| A283 Gr.C Plates Stock Holder | Gr.C Steel Plates & Sheets |
| Gr. C Plates Manufacturer | A283 Gr.C Plates Exporter |
| A283 Gr.C steel plate | Grade C Steel Plates Stockist |
| A283 Steel Sheets | A283 Plate Supplier |
Other Types Of ASTM A283 Grade C Plates :
A283 Plates Stockists, ASTM A283 Carbon Steel Plate Stockholder in Maharashtra, ASME SA 283 Grade C Plates Stocks in Mumbai India, ASME SA283 Gr.C Low carbon Steel Plates Suppliers, SA283 Gr C Intermediate Tensile Strength carbon Steel Plates Exporters, ASTM 283 Grade C CS Plate Dealers, ASTM A36, A283GrC, SS400, SM400A,S M400B, S235JR, S235J0 Manufacturers, A/SA 283 Gr.C Normalised Plates importers, ASME SA283 GR C Steel Cut Sizes Plates inventory, ASTM A283 Gr. C Industrial Carbon Steel Plates for Moderate Temperature Service, ASTM A283 GR. C Nace Plate, A283 GR. C HIC Plate, ASTM A283 Gr. C tensile strength Plates, SA 283 Gr. C, certified JISG3106,EN10025 ASTM A283 Gr. C Plates, A283 Gr. C Steel Plates
Countries we have exported ASTM A283 Grade C Plates to:
Tibet, Chile, Angola, Oman, Brazil, Russia, Indonesia, Croatia, Azerbaijan, Ireland, Italy, Czech Republic, Mongolia, United States, Qatar, Nepal, Afghanistan, Kazakhstan, Hong Kong, China, Malaysia, Libya, Ukraine, Belarus, Jordan, Mexico, Peru, Zimbabwe, Puerto Rico, Morocco, Saudi Arabia, Gambia, Pakistan, Slovakia, Egypt, Denmark, Philippines, Poland, Poland, Thailand, India, Namibia, New Zealand, Costa Rica, South Africa, Switzerland, Portugal, Bahrain, Nigeria, Turkey, Ecuador, Lebanon, United Arab Emirates, Gabon, Lithuania, Trinidad & Tobago, Tunisia, Bhutan, Sweden, Germany, Yemen, Australia, Belgium, Macau, Bulgaria, France, Romania, Nigeria, Spain, Israel, Algeria, Taiwan, Hungary, Argentina, Sri Lanka, Finland, Iran, Chile, Ghana, Canada, South Korea, Netherlands, Austria, Serbia, Colombia, Bolivia, Mexico, Estonia, Norway, Greece, Iran, Iraq, Bangladesh, Kuwait, Vietnam, United Kingdom, Venezuela, Japan, Kenya, Singapore.
Cities we have supplied ASTM A283 Grade C Plates to:
Thane, Chandigarh, Cairo, Dammam, Ludhiana, Ahvaz, Jakarta, Sharjah, Ahmedabad, Bogota, Hong Kong, Indore, Bengaluru, Toronto, Petaling Jaya, Aberdeen, Moscow, Bhopal, Jaipur, Haryana, Surat, Gurgaon, Istanbul, Jamshedpur, Al Khobar, Kuala Lumpur, Coimbatore, Nashik, Chiyoda, Faridabad, Doha, Los Angeles, Visakhapatnam, Kanpur, Nagpur, Atyrau, Pune, New York, Madrid, Al Jubail, Dubai, Riyadh, Algiers, Busan, Noida, Lagos, Edmonton, Courbevoie, Chennai, Calgary, Secunderabad, Dallas, Jeddah, Lahore, Mumbai, Brisbane, London, Granada, Pimpri-Chinchwad, Mexico City, Hyderabad, Vung Tau, Perth, Milan, Manama, Abu Dhabi, Ankara, Sydney, La Victoria, Bangkok, Geoje-si, Melbourne, Houston, Seoul, Ranchi, Kuwait City, New Delhi, Vadodara, Santiago, Caracas, Port-of-Spain, Tehran, Ernakulam, Baroda, Muscat, Rajkot, Navi Mumbai, Montreal, Kolkata, Ho Chi Minh City, Hanoi, Gimhae-si, Thiruvananthapuram, Howrah, Colombo, Ulsan, Karachi, Singapore, Rio de Janeiro.